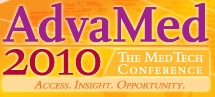 Next week, more than 50 innovative medical technology companies from around the world will present their company profiles to potential investors, partners and industry stakeholders at AdvaMed 2010: The MedTech Conference, being held October 18-20, 2010 in Washington, D.C. The presenting companies represent various medical device sectors, including the following:
Blood: CytoSorbents Corporation, Interface Biologics
Cardiovascular: Circuport, Inc., Endosense SA, ValveXchange, Inc.
Diagnostics: 20/20 GeneSystems, Inc., Alverix, Inc., DioGenix, Lineagen, Inc.
Imaging: Activiews, Inc., Oncoscope, Inc.
Information Technology: Calgary Scientific Inc., Jabil, Inc.
Inflammatory Diseases: CytoPherx, Inc.
Monitoring: MONITOR-it S.A., S.E.A. Medical Systems, Inc
Neurology: BrainScope Company, Inc., EGI
Ophthalmology: eSight Corporation
Orthopedics/Spine: Echometrix
Urology: EastMed Inc, Flowsense Medical Ltd.
Wound Healing & Tissue Regeneration: Cohera Medical, Inc., ConvaTec Inc., CSA Medical, Healionics Corporation, Healthpoint, Ltd., Regenesis Biomedical Inc, Tissue Fusion, LLC
Other: 4ibio, Pickering; Advanced Dental Technology, Altrika, Inc., AMES Technology, Inc., Avancen MOD Corporation, CerviLenz, Inc., Claro Scientific, CogniSens, ConvaTec, Inc., Endomimetrics, GeneEx, Inc., Hadasit Medical Research Services & Development Ltd., NovaScan, Noxilizer, Photo Dynamic Therapy LLC, Profound Medical, Semprus BioSciences, SendSor Group, Sphere Medical, StemCellRX, TrusTech, ZSX Medical
To view a complete company presentation schedule with a full list of companies, click here. For more information about the companies above and others presenting at AdvaMed 2010, visit http://www.advamed2010.com.