ATS Medical has been making a good run of it of late. The company has demonstrated its ability to execute corporate strategy and increase shareholder value. In May, ATS revised fiscal 2008 revenue guidance to $62-$66 million from $60-$64 million.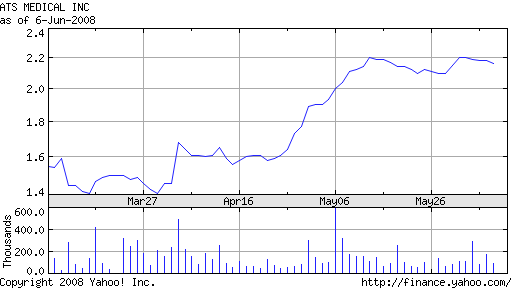 Yesterday, ATS announced Canadian approval of its Open Pivot AP360 Mechanical Heart Valve (MHV). The AP360 combines the proven performance of its original Open Pivot Heart Valve with a cuff design that extends its appeal to a broader spectrum of surgeons.
According to Michael Dale, President and CEO of ATS, "Heart valve sewing cuff material and design contribute to the ease with which suturing needles pass through the cuff and an uncomplicated positioning of the valve at the implant site. Surgeons develop a feel for, and gain confidence and comfort in a cuff that is well suited to their individual surgical techniques. When it comes to sewing cuffs, one style does not fit all tastes."
In an interview with OneMedPlace last summer, Dale had indicated that a key growth driver would be the commercialization of its line of heart valves within the U.S. In August 2007, the company received FDA clearance for additional sizes of its line of ATS Open Pivot mitral valves; clearance for its Simulus Semi-Rigid Annuloplasty Ring occurred in November. The company's Open Pivot AP360 Mechanical Heart Valve (MHV) was approved by the FDA in December 2007.
"Because the market for mechanical heart valves remains highly competitive and continues to contract in size based on expanding indications for tissue heart valves, we have focused on increasing our product offering to existing customers. Because our entire line is not available in the U.S., we believe the most efficient way to achieve this is to secure approval to commercialize all of these products domestically. Based on our work over the last two years, we expect to receive additional approvals in 2007."
ATS has delivered in the U.S. Given its strong domestic position, shoring up the company's international offerings seems like a logical next step.
See also: ATS Medical's CryoMaze: Initial Clinical Results Promising