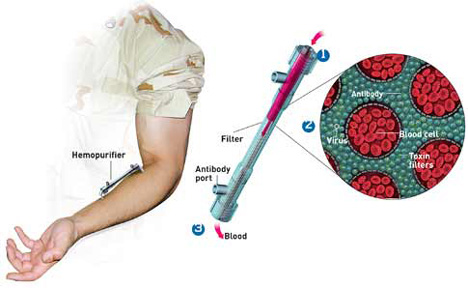 Aethlon Medical is nearing completion of the "first-in-man" study of a medical device to treat HIV; an HIV-infected individual has initiated treatment with the company's Hemopurifier as part of a 30-day study now underway in Punjab, India.
The study's protocol, which calls for the administration of up to twelve Hemopurifier treatments, is scheduled to be completed on January 23rd. The goal is to demonstrate that Hemopurifier can safely and effectively reduce viral load and trigger replenishment of CD4 immune cells in the absence of drug therapy.
Since June of 2001 Aethlon has focused exclusively on the development of the Hemopurifier. The device, which resembles a modified kidney dialysis cartridge, exploits the pre-existing global infrastructure of dialysis and continuous renal replacement machines already present in hospitals and clinics.
Hemopurifier targets all circulating strains of infectious HIV, including those varieties that cause patients to fail antiviral drug regimens. Additionally, the device preserves the immune response through the removal of gp120 and other toxic proteins shed by HIV to kill-off immune cells, the hallmark of AIDS.
"In caring for those infected with HIV, we plan to enhance the benefit of drug regimens by curbing the proliferation of viral strains that cause drug resistance, and we seek to extend and improve the lives of individuals once they no longer respond to drug therapy," commented  Jim Joyce, Chairman and CEO of Aethlon.
Previously: Aethlon Medical: Time to Focus