It's been tough going for Ophthalmic Imaging Systems (OIS). The digital imaging company reported second quarter net revenues of $3.2 million, compared with net revenues of $3.6 million for the same period last year.
The company lost $249,000 in the second quarter of 2008. In its second quarter last year, net income at OIS was $458,000.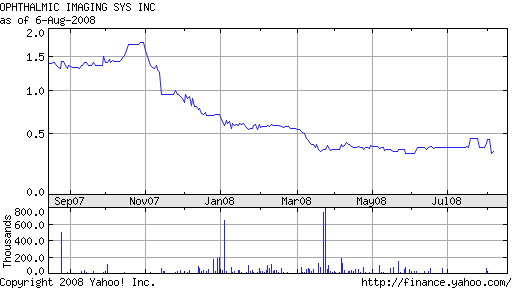 CEO Gil Allon, pointing to a "difficult economic environment", is taking steps to return the company to profitability. His strategy has less to do with the company's traditional product line (the company's eye imaging product portfolio includes digital capture systems, digital fundus imagers, image processing and archiving solutions) and more to do with the recently formed Abraxas Medical Solutions.
Formerly AcerMed, the Abraxas subsidiary (acquired in January 2008) offers Electronic Medical Records and Practice Management software. Abraxas' solutions are tailored to a wide range of medical practices, from solo practitioners to multi-site, multi-specialty group practices.
Over the course of 2008, OIS anticipates expenses and investments of approximately $2 million to expand Abraxas operations in all departments, including R&D, technical support and sales. During the first half of 2008, OIS recorded $366,000 in Abraxas-related costs.
The word Abraxas was engraved on certain antique stones, later used as amulets and charms. Abraxas has also been variously claimed throughout the centuries to be an Egyptian god, a demon, and to represent God and Satan in one entity. It remains to be seen what Abraxas will mean for OIS.
According to Allon, Abraxas will be able to leverage OIS' position in the digital imaging market. Abraxas will begin marketing to the OB/GYN, Orthopedic and Primary Care markets by the end of Q3, and to the Ophthalmology market by the end of 2008.
As of June 30, 2008, OIS had $4.2 million in cash and cash equivalents on hand.