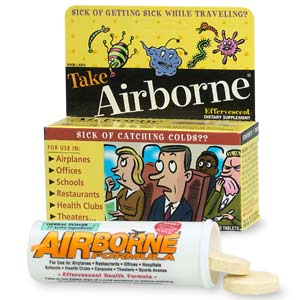 Airborne is a dietary supplement and health formula which is said to help ward off harmful bacteria and germs, and help prevent the flu and the common cold. The formula contains herbal extracts, amino acids, antioxidants, electrolytes, vitamins and other nutrients, and can be purchased in many U.S. retail stores over-the-counter.
It has been ranked the #1 cold and flu remedy at Drugstore.com, and is considered one of the fastest selling health products in retail history.
Intrigued?
At this point I'm sure you are wondering what team of scientists came up with this proprietary formulation…how many hours were spent perfecting this natural formula containing 17 herbs and nutrients, and of course, what type of carefully controlled clinical testing was undertaken to establish Airborne's efficacy.
Well, who needs scientists?
Airborne was developed by, "a school teacher who was sick of getting sick in the classroom."
Victoria Knight-McDowell, an elementary school teacher from Carmel, CA developed the product to "ward off" the germs spread by her 2nd grade students.
The marketing masterminds (or perhaps the cartoonists who devised the packaging) chose to disclose this fact prominently on all Airborne advertising – but it seems they went too far when touting the product's benefits.
Because Airborne is classified as a food supplement, it does not fall under FDA jurisdiction. Even so, companies aren't allowed to make grandiose unsubstantiated claims concerning effectiveness.
The maker of Airborne has removed some of its more idiotic claims and has agreed to pay $23.3 million to settle a false advertising class-action suit.
The company will refund money to consumers who bought Airborne product between May 2001 and November 2007. It will also pay for advertisements in major publications instructing consumers on how to get refunds.