Boston-MA based Bicon is often portrayed as smallest of the "large" dental implant companies or largest of the rest of the field in this very competitive arena. Bicon is a privately held company with worldwide distribution network with implants being sold in over 40 countries worldwide. In the U.S., Bicon sells direct to dentists. Overseas, it has a variety of wholly owned subsidiaries as well as independent distributors depending upon the region. Bicon products have been manufactured in the same U.S. facility for over 22 years.
The Bicon dental implant serves as the replacement for the root portion of a missing natural tooth. It is machined from surgical-grade titanium alloy. A dentist places the implant into either the upper or lower jawbone. After a period of time, the implant integrates with the bone and becomes a secure anchor for a replacement tooth, a fixed bridge, a removable partial, or a complete denture.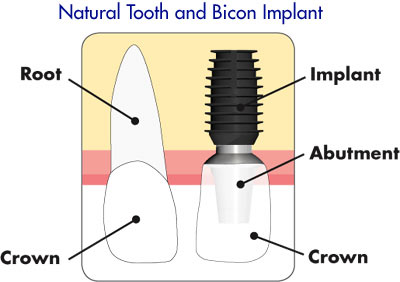 Last week I sat down with Dr. Michael Beck DMD, of Brooklyn, NY to discuss Bicon technology.
What was your first experience with dental implants?
Beck: In the 1990's, before I started performing implant surgery, most dental surgeons were placing screw retained implants. In the following years, I noticed many patients were coming into my office after their implant screws had loosened or after the implant housing had cracked. Many of these patients ended up resorting to cemented bridges.
What advantages does Bicon offer over traditional screw implants?
Beck: Bicon implants use a press fit system. The tapered post of the Bicon abutment locks into the implant with friction. The contact of the post against the implant wall makes a bacterially-sealed connection. Once the implant is locked into position, a conventional crown over a post or a cement-less one piece post and crown can be made – these are called Integrated Abutment Crowns (IAC) and never show metal at the gum line.
A typical Bicon post is 3 mm in diameter. I have placed and restored over 500 Bicon implants since 1999 and I have never had an implant fracture. The diameter of a typical screw implant is 1.5mm and fracture is much more common.

Are there any other advantages to the Bicon system?
Beck: The sloping shoulder of the implant allows bone to grow over the implant. In general, screw retained implants have a straight cylindrical neck which make them prone to bone loss – the body doesn't like sharp angles. The sloping shoulder of Bicon implants allow bone to remain or grow, securing the implant.
In screw retained implants, the screw housing is not sealed and bacteria may build up, adding to the bone loss. Bicon implants are sealed. The company has performed studies that show bacteria do not grow into their implants.
How does Bicon compare in terms of cost and patient comfort?
Beck: The cost of a root canal post and crown can approach $2500/tooth (with post operative sequelae and anesthesia). We have held our fee for implants at $3000/tooth. There is post operative discomfort for two days; most every other procedure performed after the initial implant surgery can be done with little or no anesthesia.
Can you use this implant for anything besides replacing a single tooth?
Beck: Multiple teeth can be replaced using the one tooth one implant concept. If bone is inadequate and cannot be surgically corrected, cemented bridges can be constructed. Dentures can be retained with implants. Combination cemented and removable work can be done. It is a very versatile system. Bicon can even be used to anchor orthodontic brackets.
Can you tell me a little bit about the Bicon training program?
Beck: Courses are given all the time in Boston. Practitioners can take classes where one can place as many as 14 implants during the course of three days. Bicon also has classes in Cartajena, Rome and a safari out of South Africa where you can place implants and tour.
Any competitors of which you are aware?
Beck: Since this system is patented, there are no other press fit systems on the market. Branemark, 3I, Paragon, Imtec, to name a few, are all screw retained. The cost of a screw retained custom abutment is very expensive. We could never charge what we are charging using those systems.
Dr. Beck offers dental implants out of his Brooklyn, NY office. In addition, he performs teeth whitening and other basic dental procedures.