Most investors won't touch a stock trading on the pink sheets with a ten foot medical device. But for the risk-inclined among you, BioElectronics Corp. (BIEL) may warrant a first look.
The company, which has gone largely unnoticed by investors, is trading near its year-long low, despite management initiatives that have already begun to pay off.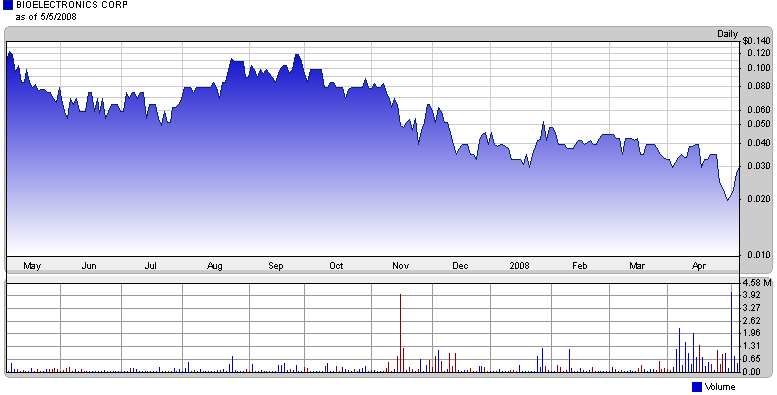 Based in Frederick, MD, BioElectronics Corp. makes anti-inflammatory patches sold under the ActiPatch brand. The device (details available at the recently launched, albeit corny-looking website: actipatchonline.com) delivers pulsed electromagnetic frequency (PEMF) to accelerate healing of soft tissue injuries. PEMF has been shown to reduce pain and swelling by lessening the body's inflammatory response.
BIEL recently enacted a series of changes that should position the company for growth in 2008. In addition to the introduction of several new retail-oriented products, the company substantially reduced manufacturing costs and overhauled its distribution strategy.
New Retail Oriented Products
The company's retail product line targets four common conditions: back pain, foot and ankle pain, knee pain, and arm and wrist pain (including carpal tunnel syndrome and tennis elbow).
BIEL expects marketplace introduction in Canada, Italy, Netherlands, Mexico, and the U.K. over the next few months.
The most notable new product may come in 2009, when BIEL plans to introduce a topical patch to alleviate arthritis pain.
ActiPatch could prove especially useful to patients who can't take common pain relievers like aspirin, ibuprofen and naproxen. These medications have the potential to exacerbate existing conditions or create dangerous drug interactions. Last month, Maryland Medicaid announced it will offer reimbursement for ActiPatch in kidney-compromised patients.

Manufacturing
In 2007, BIEL transferred all of its manufacturing offshore. The company estimates the change will reduce the costs of goods sold by 75%. As a result, gross margins will increase significantly; manufacturing costs are approximately 20% of the end retail price.
The move already appears to be having a positive impact on the balance sheet. From 2005 to 2007 sales nearly doubled with very little increase in the costs of goods sold.

Distribution
In 2007, the company signed 20+ new distributors in key international markets. Locin, one of Canada's largest wholesalers, will begin selling Actipatch next week (Health Canada has approved ActiPatch for over-the-counter sales for the relief of pain in muscosketal complaints).
Clinical Trials
ActiPatch is currently FDA cleared for the treatment of edema following blepharoplasty (eyelid surgery). One of the company's stated goals in 2008 is to complete clinical trials in order to expand the use of ActiPatch in the U.S.
It goes without saying that any expanded indications would substantially increase shareholder value. Andrew Whelan, BIEL President and CEO, commented in April,
"While it is still too early to comment publicly on our exact plan relative to this area, we are currently in negotiations with several entities of import. Our overall long-term goal is to receive full approval from the [FDA] to allow our products to be sold over the counter within the [U.S.]. We urge shareholders to stay tuned over the coming quarters as we announce developments in these areas."
More information on BIEL can be found here.