In February, I reported that a turnaround at Biolase was underway. Improved relations with Henry Schein, a key distributor, were largely responsible for the upturn.
The company achieved fourth-quarter sales of more than $20 million – a record for Biolase and well ahead of analysts' $17.4 million target.
Cost controls instituted by Jake St. Philip, the former Cardinal Health executive who took the helm in January, led to two consecutive quarters of profitability – this in a challenging economic environment.
In addition to improved relations with Henry Schein, Biolase reorganized its domestic sales team and placed new emphasis on market segmentation and corresponding product development programs. In July, the company unveiled a more affordable dental laser for restorative general dentists.
Unfortunately, improvements in top-line revenues were short-lived. Despite turning a profit in each of its last two quarters, revenues have declined on a sequential basis. Biolase, which traded as high as $7/share in October of last year, is now hovering near a 52-week low of $2.02. St. Phillip anticipates uneven revenue growth in the near term.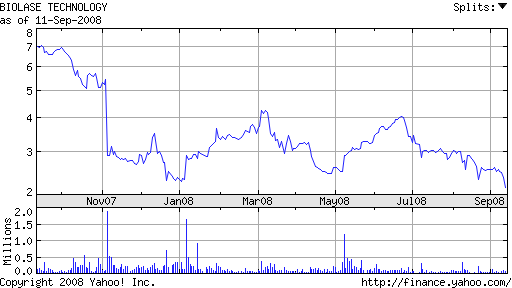 Biolase will now have to defend itself against a lawsuit brought by National Laser Technology (NLT).
In what smells more like a marketing tactic than an actual complaint, NLT alleges that Biolase, which controls more than 85% of the dental laser market, uses its monopoly power to "coerce dentists to purchase products at double the price offered by NLT".
On Monday, Biolase filed a counterclaim lawsuit alleging violations of FDA regulations, federal trademark infringement, and false advertising by NLT. Biolase contends that NLT has been modifying and reselling Biolase products without complying with federal medical device regulations.
Hopefully, the suit won't distract from a turnaround which held quite a bit of promise only six months ago.