Dental laser maker Biolase Technology has slashed 20 percent of its domestic workforce. The company will save $2 million a quarter as a result. Additional cost savings initiatives are now being explored in the company's international subsidiaries.
"In the short-term, this creates a leaner organization that is better equipped to absorb the potential impacts of a weaker economy and capital equipment marketplace," said Biolase CEO Jake St. Phillip.
Revenues have declined on a sequential basis over the last several quarters even as Biolase has taken steps to appeal to a broader section of the dental market. In July, the company unveiled a more affordable dental laser for restorative general dentists, the Waterlase C100. Because of its high cost ($85,000 – $100,000), the company's flagship laser, the Waterlase MD, is better suited to dentists with well-established practices. St. Philip said he will leave research and development spending untouched.
In the previous nine-months, Biolase lost $3.8 million, compared with a loss of $6.1 million in the same period last year.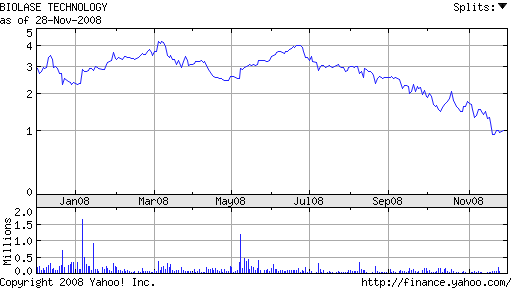 Previously: Biolase: Checking In on the Turnaround