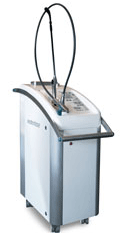 Biolase Technology has launched a new hard and soft tissue laser for restorative general dentists, the Waterlase C100. The device is priced to appeal to a broader section of the dental market.
Based on market research, Jake St. Philip, Biolase CEO, believes a broader product offering to complements the company's flagship Waterlase MD will increase adoption rates across segments of the dental market – specifically dentists who are just beginning to build their practices.
Because of its high cost ($85,000 – $100,000), the feature-rich Waterlase MD is better suited to dentists with well-established practices. Previously, Biolase had tried to drum up sales of Waterlase MD by offering promotions in conjunction with distributor Sullivan-Schein. That offer, from 2007, consisted of a $5,000 discount plus a 50-inch plasma TV and a $5,000 Sullivan-Schein merchandise gift certificate. Plasma TVs??
The C100 provides clinical procedures including cavity preparation, early stage periodontal therapy and soft tissue procedures with more patient comfort compared to conventional instrumentation.
St. Phillip Continues to Make Progress
St. Philip, a former Cardinal Health executive, joined Biolase in January. His hiring was part of an overall management shake-up that led to the departure of CEO Jeffrey Jones and CFO Richard Harrison. A downturn in domestic and international sales had caused the company to miss several quarterly revenue estimates.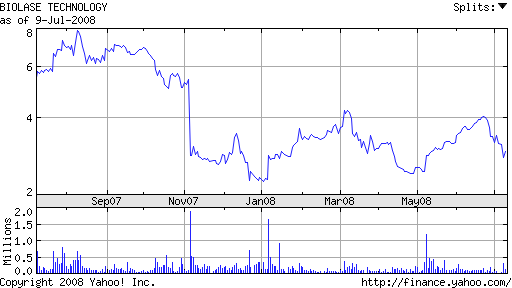 First quarter numbers released in May indicate that things may be on the mend. Net revenues increased 26% to $19 million and net income was $26,000 (compared with a net loss of $1.7 million in the same quarter last year). Biolase stock continues to hover near a 52-week low.
According to St. Philip, "This is the first time we have reported a quarterly profit in the past four quarters, and while nominal, we believe it is a sign of the operational progress we are making. We view this quarter as a solid foundation for the year. We are pleased with the operational improvements we are making as well as domestic sales performance."
Improved relations with distributor Henry Schein have been instrumental in the company's resurgence. According to The Street, "that partnership has been the source of both high hopes and major disappointments in the past."
Previously: Biolase receives 510(k) clearance from the FDA allowing it to market a version of its Waterlase MD Laser System in dermatological applications as well as general and plastic surgery.