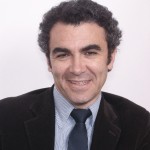 SpineGuard, based in San Francisco and Paris, is addressing a major unmet need in spine surgery: the safe placement of pedicle screws for both patients and OR personnel. PediGuard®, its core technology, is the world's first and only handheld device capable of alerting surgeons to potential pedicular or vertebral breaches during pedicle screw site preparation.
By far, pedicle screws are the most common implant used in spinal surgery today. Unfortunately, unacceptably high rates of pedicle screw misplacements in the vertebra persist, which can lead to dramatic neurologic and vascular impairment, such as paralysis and death.
"PediGuard will probably become a standard tool in any spine surgery requiring instrumentation," says Dr. Randy Betz, Orthopaedic Spinal Surgeon, Shriners Hospital, Philadephia PA. "Anything we can do to help us get a safer screw insertion is certainly worthwhile."
According to iData Research, almost one million spinal procedures performed yearly in the world use pedicle screws during spinal fusion back surgery, ranging from a minimum of four screws to over 20 screws per operation. This represents a potential market opportunity of $1 billion for PediGuard®, which is compatible with any pedicle screw system. To date, close to 23,000 spinal procedures have been perfomed with the help of PediGuard® in over 40 countries across all continents .
Without PediGuard, fluoroscopy is extensively used to continuously monitor the correct placement of pedicle screws into the spine. Fluoroscopy is an imaging technique providing patient internal structure images through the use of a fluoroscope (C-Arm). It involves use of x-rays, a form of ionizing radiation; while the exposure to a patient during one surgery is relatively minimal, spine surgeons may perform 140 or more cases per year. The average spine surgeon will receive the maximum allowable lifetime exposure of radiation for classified workers within 10 years of practice (Ul Haque, Shufflebarger et al, 2006). On the other hand, surgeons who use PediGuard do not need continuous fluoroscopic guidance. Indeed, use of PediGuard may reduce surgeons' radiation exposure by about 30 percent.
The scientific literature reveals that about 20% of pedicle screws are misplaced using conventional techniques, causing a 2% to 5% overall complication rate. "If a screw is placed too lateral, it can damage soft tissue or nerves," says SpineGuard CEO Pierre Jérôme. "Likewise, a screw placed too medial can damage the spinal cord." Five published clinical studies in peer-reviewed journals demonstrate the superior screw placement accuracy of PediGuard. "On average, PediGuard has a 97% accuracy placement rate, 30% decrease in radiation exposure and 15% time saving," Jérôme says. Furthermore, one of the five studies showed a three-fold reduction in neuromonitoring alarms.
While the most commonly used modality for monitoring placement of pedicle screws is fluoroscopy, also available are computer-based navigational equipment and nerve intraoperative monitoring systems. "The accuracy of navigational devices varies, depending on the complexity of the surgery," says Jérôme. "And, the use of neuro-monitoring requires a neurophysiologist in the operating room and is basically restricted to the lumbar region of the spine. On the other hand, PediGuard can be used in the most problematic area, the thoracic region, in addition to the cervical and lumbar areas where it can detect any kind of pedicle breach."
Since the company's founding as a spin-off of SpineVision in early 2009, "sales have nearly tripled in a spine market that is basically flat," Jérôme notes. The PediGuard product, priced around $1,500, is sold directly to hospitals in the U.S. and France through commissioned agents, while in other countries resale distributors are contracted.
SpineGuard has raised $20 million so far: a $15 million Series A upon inception and a $5 million Series B in the summer of 2011. Funding was mainly through four VC firms: Omnes Capital (formerly C.A.P.E.); IPSA (formerly Innoven Partenaires SA); A Plus Finance; Delta Partners.
The company has regular exchanges with large spine companies. "Given that there are about 170 pedicle screw systems on the market and increased pressure on volume and price, all major players understand the need for a holistic view on the next trends in spine procedures. They are interested in our approach of making spine surgery safer by incorporating advanced technologies. We have one of the very few technologies that can have a direct impact on the $7 billion market for implants and material used in pedicular screw based procedures," Jérôme insists. SpineGuard has nonetheless plans to develop with, or without, partnering with large spine companies.
On the R&D front, SpineGuard is miniaturizing PediGuard's sensor and adding to its array of tips. The fertile platform is also applicable to trauma, hip revision, craniomaxillofacial (CMF) and dental, where there is the same safety concerns about the placement of screws in bony structures.