Shares of Candela Corporation, a maker of aesthetic lasers, jumped 31% yesterday after the U.S. District Court agreed to postpone the patent litigation suit brought by Palomar Medical in August 2006.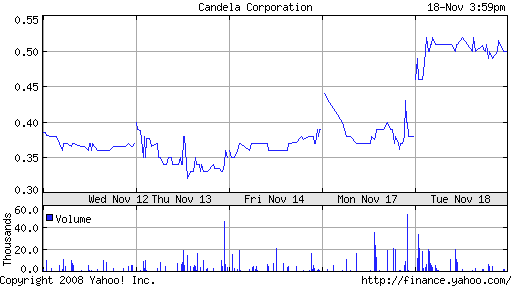 Candela filed a motion requesting a stay on October 31st after the company learned that that a reexamination request had been filed with the U.S. Patent and Trademark Office. While requests for patent reexamination are common, the process takes an average of 24.3 months according to Patent and Trademark Office statistics.
The postponement will buy Candela much needed time to explore strategic alternatives. Gerard Puorro, Candela's CEO, commented, "While, the reexamination is pending, we expect a precipitous drop in our legal expenses while we work to restore profitability to the company."
In its most recent quarter, revenues at Candela decreased 24 percent (year-over-year) to $26.9 million. The company reported a net loss of $4.0 million. Uncertainty over the pending litigation had driven Candela's share price to fire sale prices.
As expected, Palomar was a little miffed about the delay. In a statement the company said, "The arguments regarding invalidity in the request for reexamination are baseless as well as factually and legally incorrect. At the end of process, it should be clear, as Palomar and many of its licensees have already concluded, that the patents are valid and cover fundamental technology."
Previously: Palomar vs. Candela: Laser Battle Heats Up