Candela Corp. has released second quarter results. Revenues totaled $28.8 million, a decrease of 19 percent compared to the $35.7 million reported last year, but a 7.3 percent improvement over the first quarter.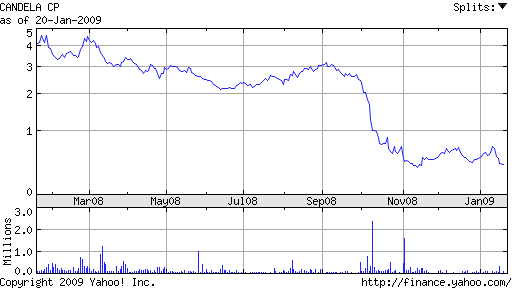 In light of the stock's precipitous decline, the company had recruited Houlihan Lokey, an international investment bank, to explore strategic alternatives including a potential merger. Such explorations appear to be at an end. Says CEO Gerald Puorro, "following an extensive review of the strategic options available to the company, Candela will remain independent."
Independent or not, Candela continues to hemorrhage cash. The company reported a net loss of $25.3 million or $1.11 per share (this includes a loss of $18.2 million from discontinuing operations).
In light of the continued economic uncertainty, the company will take steps to reduce its expenses and preserve the remainder of its $27 million in cash. Candela will proceed with layoffs and all current employees will experience pay cuts.
The company has also decided to settle its outstanding class action lawsuits. This should lead to a reduction in the company's mounting legal expenses: $2.7 million this quarter alone. Under the terms of the agreement, Candela will pay $3.85 million into a settlement fund, though the company refuses to admit any wrongdoing.
Previously: Candela Explores Strategic Alternatives in Challenging Aesthetics Market