On Thursday, Cepheid reported $42.1 million in quarterly revenues, a 55% jump from the $27.2 million reported in the same period last year.
Growth has been driven by hospitals intent on countering the growing scourge of healthcare associated infections (HAI).
Sales of Cepheid's Xpert MRSA test (FDA approved in April 2007) increased 35% from the first quarter, reaching approximately $11 million – a figure I find amazing, considering my onetime dismissal of MRSA as a potentially short-lived celebrity superbug. In May Cepheid signed a group purchasing contract with Novation, making its GeneXpert System and Xpert MRSA tests widely available in the U.S. at lower, pre-negotiated prices.
Overall, in the first half of 2008, Cepheid's clinical business saw year-over-year growth of 186 percent, with the GeneXpert System leading that charge.
In 2007, the company's line of clinical molecular diagnostics contributed over 50% of revenues, up from 24% of sales in 2006. Growth was seen primarily in instrument sales which doubled to $47 million; reagent sales remained strong, growing 15% to $68.7 million.
While core clinical product laboratory sales grew to record levels, non-core clinical sales to other companies were below the company's expectations. According to John Bishop, Cepheid's CEO, "We expect non-core clinical sales of products to other companies to continue to be below our expectations for the remainder of 2008."
Gross margins on product sales were also below expectations, the result of a problem in the production of a cartridge part. Cepheid's operations team quickly identified and corrected the problem such that it had no impact on product availability. Gross product margin are expected to return to first quarter levels in the third quarter.
Despite increasing revenues, the company's net loss increased slightly to $7.5 million from the $5.2 million loss reported in Q2 2007. At least half that loss can be attributed to stock compensation expenses and the amortization of purchased intangible assets.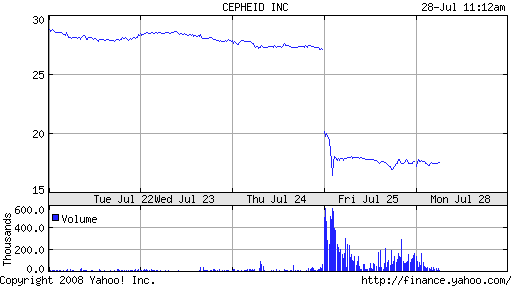 Cepheid stock plunged as much as 41 percent Friday. This might be a good play for investors looking to gap up.