Chembio Diagnostics reported second quarter revenues of $2.72 million, an 8.6% increase over Q2 2007 and higher than any previous quarter. The lion's share of revenues came from the company's rapid HIV test; sales were $2.21 million in Q2, up $61,500 year-over-year.
Net loss was $363,000 or $0.01 per share in the second quarter of 2008. The company lost $983,000 in the same period last year.
Lawrence Siebert, President and CEO, saw continued improvements in the company's base lateral flow business; revenue from the company's Dual Path Platform (DPP) products are close to being realized.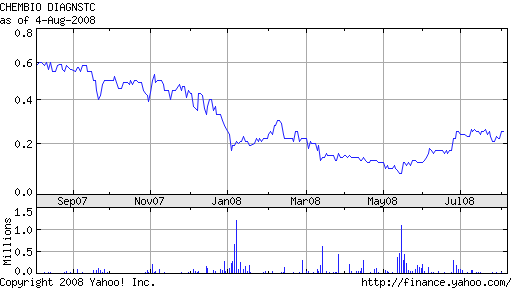 DPP offers significant advantages over traditional Lateral Flow assays. The independent flow paths of the DPP increase the efficiency of antibody binding to the immobilized antigen. This results in improved sensitivity and faster testing. DPP is also well suited to a variety of testing media including blood, serum, urine, feces or saliva. In conventional LF assays some samples will migrate slowly. With DPP technology, sorbent materials are utilized to permit faster migration and faster results.
Previously: [Video] New Developments at Chembio Diagnostics