Red Herring yesterday ran an article about a three-way race to develop an FDA-approved PFO closure device. In the running are Coherex Medical, NMT Medical and AGA Medical. A PFO, or patent foramen ovale, is an opening in the upper chambers of the heart. All infants are born with foramen ovales, but the opening is supposed to naturally close within one year. For 25% of people, though, that doesn't happen, putting them at heightened risk for stroke and migraines.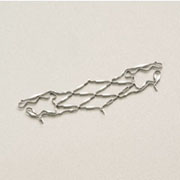 NMT and AGA have trials underway for their PFO devices. And privately held Coherex is on its way: The firm announced on April 18 that it completed a Series A equity financing of $8.5 million, led by Oxford Bioscience and vSpring Capital. With the money, Coherex will pay for trials and ongoing R&D of its FlatStent Closure System. This video does a nice job of explaining how it works.

And here's one that demonstrates AGA's PFO Occluder. Both devices are delivered through a catheter and expand once inside to cover the opening. 
Red Herring reports that Coherex will go after the migraine indication first, as it believes there's a greater financial opportunity there than in stroke. But the magazine points out that the Salt Lake City, UT, firm may be facing an uphill battle.
"NMT Medical shares lost a third of their value last year when a study failed to prove the company's technology can prevent headaches in some patients," says Red Herring.
"The Boston-based company had hoped the double-blind study would show its device could eliminate headaches in 40 percent of 147 study participants within six months. Instead, the study showed 37 percent experienced a reduction in migraines."
NMT's CarioSEAL and STARFlex products are CE Mark approved in Europe.