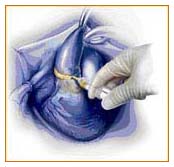 BioGlue is now available for use in browlift cosmetic and plastic surgery in the EU.
CryoLife, maker of BioGlue, has had its eyes set on the lucrative plastic surgery market since at least 2006 when they partnered with BioForm, a privately-held medical device firm headquartered in San Mateo, CA.
Under the terms of that agreement, CryoLife became the exclusive supplier of BioGlue to BioForm for all cosmetic and plastic surgery applications, and BioForm took charge of clinical trials and regulatory filings and for sales and marketing efforts in the U.S., Canada and 12 EU countries.
"BioGlue has many potential applications in aesthetic surgery, and we are particularly excited about its promise in brow lift surgery. This is an important step in our overall development strategy to evaluate the use of BioGlue as a quick and easy-to-use fixation method in plastic surgery," said Steven Basta, BioForm's CEO.
BioForm will not commercially launch BioGlue in the EU until further clinical development is completed, but the product will be available in Europe on a limited basis to early adopters who will help in an evaluation and development program. The program will complement BioForm's planned U.S. pivotal study of BioGlue for use in browplasties.
To date, BioGlue has been used in over 400,000 procedures worldwide, the two-component surgical adhesive is available in 60 countries as an alternative to sutures and staples in adult patients in open surgical repair of large vessels including the aorta, femoral and carotid arteries.
In the first quarter of 2008, revenues at CryoLife rose 4% to $25.6 million. Net income was $2.8 million, or $0.10 per share, compared to $1.4 million, or $0.04 per share in Q1 2007. BioGlue sales grew by 6% to $11.9 million in the most recent quarter.