CryoLife, in a three-year agreement signed last week, will become the exclusive U.S. distributor of Minneapolis, MN-based Medafor's microporous polysaccharide hemostatic (MPH) agent for use in cardiac and vascular surgeries.
CryoLife will also offer MPH outside of the U.S. (excluding Japan and China) in cardiac, vascular and general surgical procedures but not in orthopedic or ENT procedures.
The hemostat received CE Mark approval in 2003 and FDA pre-market approval in September 2006; it will be distributed by CryoLife under the private label name Hemostase MPH.
Hemostase rapidly dehydrates blood, enhancing clotting on contact. Available in a ready-to-use applicator, the flowable powder facilitates the formation of a natural clot within minutes.
Pre-clinical evaluations have shown that Hemostase MPH does not promote infection and absorbs within 24-48 hours of application at the wound site, compared to other surgical hemostats which can take 3-8 weeks to fully break down.
CryoLife believes Hemostase MPH will complement the company's BioGlue product line, allowing CryoLife to compete in the $380 million U.S. surgical hemostat market.
U.S. distribution will begin in Q2 2008.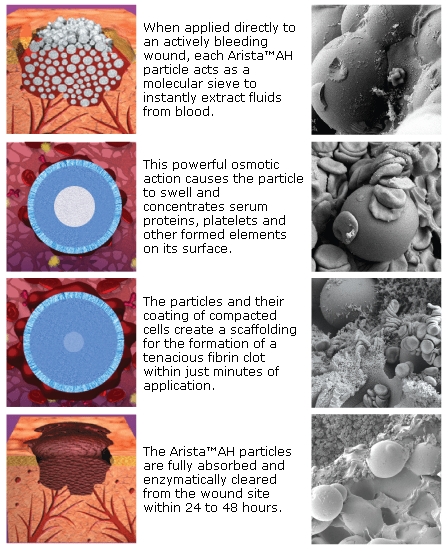 Medfor sells its MPH agent under the Arista brand name.