Quarterly revenues at Cynosure, a developer of laser-based aesthetic systems, grew 30% year-over-year, from $30.1 million in Q2 2007 to $39.2 million in the most recent quarter.
The results were in line with the Street's expectations. Analysts predicted revenues of $38.48 million, according to Reuters estimates.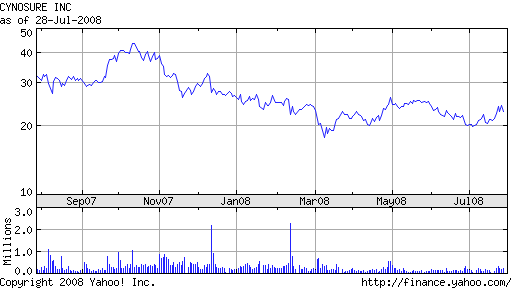 Gross profit margin increased an impressive 3.8 points year-over-year, to 67.1% of total revenue. Q2 net income increased approximately 72% to $4.7 million, compared with net income of $2.7 million in the second quarter of 2007. This marks the seventh consecutive quarter of profitability.
Last week, I discussed my anticipation of first quarter Smarlipo sales reports; the company began selling the system in the U.S. in late April. Cynosure reported significant demand for Smartlipo workstations as well as the Smartlipo MPX, a higher-powered, dual-wavelength system for laser lipolysis.
Laser product revenue increased 32% in the second quarter of 2008 over the same period in 2007, reflecting the demand for the company's multi-energy workstations targeted towards high volume aesthetic applications such as hair removal, anti-aging and laser bodysculpting.
Though Cynosure's CEO Michael Davin downplayed the role of Smartlipo, saying it was only "partially responsible" for the company's successful second quarter, I suspect it contributed much needed growth in the face of industry-wide weakened demand for hair removal and anti-aging products. Davin pointed to the continued contributions of the Affirm anti-aging system and the company's new Accolade workstation for the treatment of shallow vascular and pigmented lesions (and tattoos).
In the third quarter, Cynosure expects to launch Smartlipo MPX through its subsidiaries in the EU. The company also plans to introduce Affirm CO2 in the U.S. The ablative workstation offers a proprietary scanning delivery system that combines ablative CO2 skin resurfacing and rejuvenation in a single laser system.