Cynosure released preliminary fourth quarter results this week: the company expects revenues of $25 million to $26 million; in the same quarter last year, Cynosure reported revenues of $36.6 million.
The company had been profitable for eight consecutive quarters, but will report a $2.2 – $2.7 million loss in Q4. Financial results include a charge of $2.5 million related to uncollectible accounts from customers affected by the economic downturn and tightening credit markets.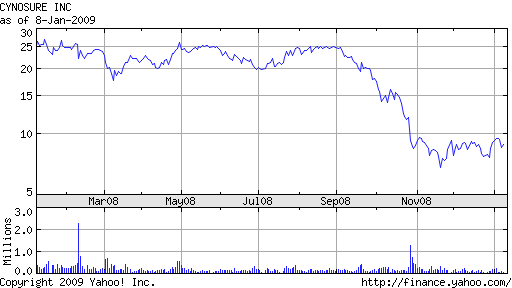 It's disappointing but not unexpected news. Investors have priced a bad quarter into the share price since October when signs of a deteriorating aesthetics industry began to manifest.
"The effect of the global economic crisis on the aesthetic laser industry has been swift and severe, hampering the ability of many prospective customers to obtain financing and prompting others to delay their capital equipment purchases until conditions improve," said President and CEO Michael Davin.
The company has responded by laying off 17 percent of its workforce, decreasing spending and and implementing cost-control initiatives. In 2009, Cynosure expects savings of $8 – $10 million. Says Davin,
"Our objective as we navigate through this unprecedented period is to maintain our leadership in the aesthetic laser industry. By continuing to invest in key areas such as engineering and product development, we are positioning ourselves to extend our competitive advantage in the current environment as well as when the economy improves."
In the wake of the news, both Citigroup and Stanford Research downgraded Cynosure from 'buy' to 'hold'. Cynosure will announce its full audited financial results before the opening of the market on Tuesday, February 10, 2009.
One bright spot remains the company's strong cash position: cash and cash equivalents at year end are expected to increase by $3 million to $95 million. Based on its today's share price ($7.16), the company has a market capitalization of $91.2 million.
As I've said before, I believe the laser aesthetics industry is about to experience significant consolidation, with Cynosure and Palomar leading the charge. Because products and segments overlap, consolidation would create substantial synergies in sales and marketing efforts. Consolidation could potentially relieve some of the pricing pressures now impacting revenues and gross margins.