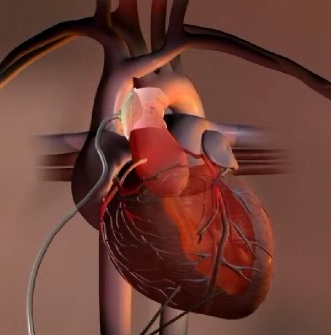 Good news for the 1.4 million U.S. patients now living with moderate heart failure: Sunshine Heart is developing a new mechanical heart assist device, C-Pulse.
The implantable aortic cuff is designed to bridge the clinical gap between heart failure pacemakers and existing end stage therapies (details here). Patients with moderate heart failure need increased blood flow to the heart and improved cardiac output to meet their bodies' demands before they experience further debilitation. These patients are typically ineligible for more invasive treatments.
Sunshine Heart is the first company to receive FDA approval to run a clinical trial evaluating a non-blood contacting heart assist device. The trial will evaluate the safety and efficacy of C-Pulse in 20 patients suffering from moderate heart failure. Patient performance will be monitored over a six month period. Enrollment is expected to begin at six U.S. medical institutions by the end of 2008.
If successful, the company will request CE Mark approval. In addition, the company will seek FDA approval for a larger randomized U.S. pivotal study to support 510(k) clearance.