The New York-based hedge fund, Elliott Associates, has offered to buy all of the outstanding shares of Endologix for $98 million or $2.25 per share. The unsolicited proposal came yesterday. Endologix stock, which had hovering at or below the $2-range earlier this week, jumped on the news. Elliott's offer was 18% higher than Wednesday's closing price.
The Endologix Powerlink System is a minimally-invasive procedure used to treat abdominal aortic aneurysm (AAA) – a weakening of the wall of the aorta. If left untreated, the aorta will continue to enlarge and become more susceptible to rupture. Open surgical repair is currently the most common treatment for AAA. It is highly invasive and often requires long hospital stays.
Despite recent share price pressure, I have a hard time believing the Endologix board will accept without further negotiation. The stock has dipped below $2 only once in the last five years – during one of the worst economic downturns we've ever seen. Endologix revenues have grown consistently.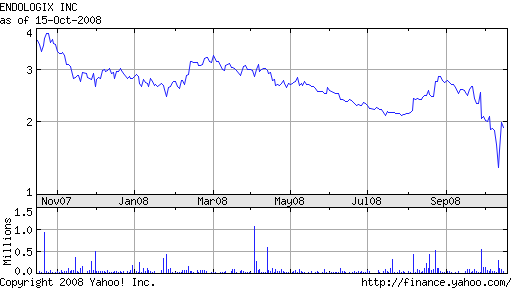 In a statement, Endologix urged shareholders to defer judgment until the company reached a decision. Good luck with that!