FDA signed off yesterday on a new test for identifying Methicillin-resistant Staphylococcus aureus (MSRA), the leading cause of hospital-acquired infections. The Xpert MSRA test, made by Sunnyvale, CA-based Cepheid, runs on the company's GeneXpert System and delivers results in just over one hour.
According to the CDC, more than 2 million infections occur in hospitals annually, and more than 100,000 hospital patients die each year as a result of contracting an infection while being treated for another condition. The Veterans Health Administration is taking a lead role in improving policies to reduce MRSA infection. In January 2007, it issued a directive requiring all VHA facilities to implement MRSA surveillance programs. Cepheid is currently working with VA hospitals to potentially deploy Xpert MRSA in compliance with this mandate.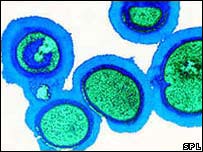 MRSA is a bacterium that is resistant to antibiotics including methicillin, oxacillin, penicillin and amoxicillin; it affects those with weakened immune systems, such as hospital patients and nursing home residents. When MRSA enters the body through the skin, it can cause serious skin infections, and if it enters the bloodstream or lungs, it can cause critical blood infections, pneumonia and death.