GE Healthcare has entered into a distribution and technology collaboration with Living Independently Group (LIG). QuietCare, LIG's principal product, is a "behavioral remote patient monitoring system" that uses wireless sensors to track the patterns of seniors' daily activities.
Unlike ReadyResponse or LifeAlert, which require elderly subscribers to physically contact a 24-hour help center in the event of an emergency (users depress an activator button worn around the neck), QuietCare monitors behavioral changes that may signal emergencies or other health issues.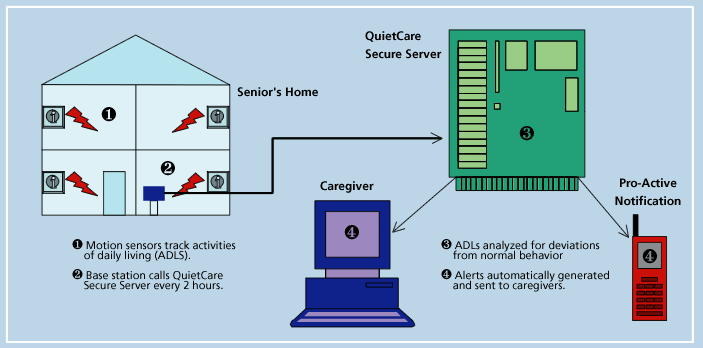 QuietCare programmatically "learns" each individual's normal behavioral patterns and notes any significant deviations. The system transmits this information to caregivers through a password protected website, or if the user prefers, by telephone.
This strikes me as creepy – its big brother for elderly – but the system could prove useful if a person were to fall in the shower, be rendered unconscious, or worse. In such an event, they would be unable to signal for help, a major defect in LifeAlert's product. That said, QuietCare, because it monitors behavior, does not react with haste. The system will automatically call for help only after a senior has been still for an hour or more.
GE Healthcare took a minority ownership stake in LIG, though financial terms were not disclosed. Commenting on the transaction, Omar Ishrak, President and CEO of GE Healthcare's Clinical Systems business said,
"This is consistent with GE's strategy to invest in high growth businesses with global potential. Demographic changes such as the growing aging population present enormous healthcare challenges in the care of seniors and the management of chronic disease. The technologies developed by [LIG] are ideally placed to help meet these challenges."
QuietCare is used in assisted living centers, senior communities, and private homes.