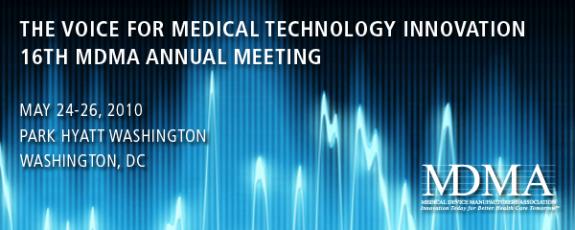 The Medical Device Manufacturers Association (MDMA), a national trade association that advocates for entrepreneurial medical technology companies, will hold its 16th annual meeting May 24-26, 2010 in Washington, D.C. About 180 medtech CEOs and senior executives will convene at the Park Hyatt Washington to discuss critical issues impacting the device industry.
According to Mark Leahey, President and CEO of the MDMA, the U.S. medical device industry is in for "a perfect storm." Healthcare reform is in the rearview mirror now, but many of its provisions have yet to be implemented. Although the medical device tax won't go into effect until 2013, device manufacturers are concerned that the tax will disproportionally hurt small- to mid-sized companies. Device makers are also increasingly apprehensive about FDA transparency and delays in the federal agency's regulatory pathway. "If the timeline to get the product approved is extended any further, the ability to raise venture capital is going to be increasingly difficult," says Leahey. "There are some significant regulatory and policy issues that need to be dealt with in order to promote innovation and not stifle it." The meeting's keynote address will be provided by Joshua Sharpstein, Deputy Commissioner of the FDA.
Also on the agenda: a session on commercializing abroad. More medtech companies are exploring their options outside the U.S. because of the holdups related to the FDA approval process. The meeting will also include a session on IP protection. Ongoing legislative efforts occurring on Capitol Hill and recent court cases have focused device makers' attention on the need to guard their intellectual property. Perhaps most importantly, the meeting gives even the smallest medtech start-ups a chance to speak face-to-face with their Congressional representatives. The association arranges meetings for both MDMA members and non-members attending the annual event.
"It's a great opportunity to hear directly from both the industry executives and senior government officials on the key issues impacting the industry," says Leahey of the MDMA annual meeting. For more information on this year's event, please visit the MDMA website.