Iapyx Medical, a San Diego firm that makes single-use medical devices, today introduced two products for reducing the risk of common hospital-acquired infections.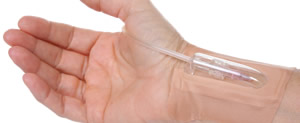 The Stable-Line Arterial catheter stabilization device is designed to prevent inadvertent movement and dislodgment of arterial lines. Suture securement, the traditional means of arterial line securement, increases patients' risks of developing catheter-related bloodstream infections, which pose a significant mortality risk. Suture securement also puts healthcare workers at risk for needlestick injuries, which expose them to such diseases as Hepatitis B and C, and HIV. Iapyx's device works without invasive sutures or conventional strips of tape. It grips the extension set to immobilize the catheter while permitting visual inspection and monitoring of the insertion site.
The Stable-Line Foley device addresses the infection risks, complications and discomfort associated with indwelling Foley (urinary) catheters. To secure Foley catheters, most clinicians use tape and leg-straps, an ineffective method that's also inadequate against urethral irritation, meatal erosion and accidental dislodgement. Iapyx's Stable-Line Foley minimizes these complications by securing the catheter and reducing inadvertent movement. The device, designed with a releasable and rotating dead-bolt style locking mechanism, allows for patient movement while maintaining skin integrity.
Iapyx Medical rebranded itself (from Medical Device Group) at the end of 2006. The new name is after Iapyx, a wound healer and battlefield surgeon in Greek mythology who is one of the first people credited with identifying and treating the problem of surgical site infections. Soon after the rebranding, the company secured $9 million in funding from Tavistock Life Sciences.