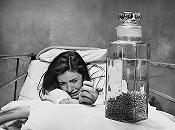 The introduction of delivering a drug on film might be the best thing since sliced bread.    Similar to breath enhancement strips, this edible film technology is in studies to be used for erectile dysfunction, migraine, insomnia, bipolar disorder, and pain management!  The effort to make drug delivery easier and much more convenient comes at a time when traditional drug tablets without controlled release cause blood levels to rise quickly after administration and then drop rapidly requiring frequent dosing.

IntelGenx (see video), a drug delivery company based in Quebec is at work developing products around advanced controlled-release technology. Their aim is to improve existing drug compounds with proven efficacy and safety and, in conjunction with strategic development and distribution partners, reintroduce these drug compounds to the market as branded products with improved deliverability and efficacy.

"I always felt that there were bigger opportunities in putting pharmaceuticals on film," said Horst Zerbe, President and CEO of IntelGenx.  "We work with FDA approved drugs where the existing delivery method is suboptimal. We optimize the delivery of the drug in one of our platforms, such as a film, and then confirm its safety and efficacy by conducting a Phase I (bioequivalency) study. We generally don't have to invest in Phase II or Phase III efficacy studies, so we can develop a product and submit it to FDA for approximately 1/100th the cost of a new drug."

Because they are developing improved formulations of currently marketed therapeutics, their products typically require fewer clinical trials to generate the safety and efficacy data needed to achieve regulatory approval than drug formulations that have not been previously marketed.

Using the 505(b)(2) approach to obtain FDA approval, IntelGenx products have the possibility of obtaining  3 years of market exclusivity. One of only 3 or 4 companies actively working on pharmaceutical films, IntelGenx has already completed human studies with erectile dysfunction and migraine product and another two studies will be completed in the near future.

Other companies involved in drug delivery are NuVue Therapeutics, Samos Pharmaceuticals, and Oramed Pharmaceuticals.