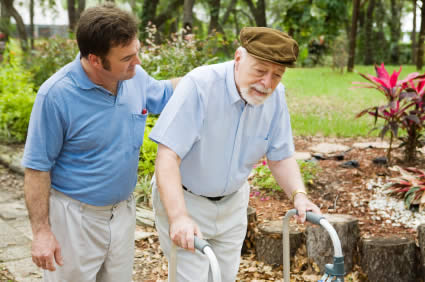 Because of its life-threatening potential, wandering behavior in Alzheimer's patients is a major concern for doctors and caregivers. If left unsupervised, patients may wander away from their homes or hospital beds, winding up far from their starting point with no idea of where they are. Over half of Alzheimer's patients exhibit wandering behavior, and locating them quickly is critical: Forty-five percent of those cases end in death if the patient is not found within 24 hours. Many walk out into freezing weather wearing little more than pajamas, while others suffer falls or accidents. Alzheimer's patients aren't the only ones prone to this risk. Conditions such as Down syndrome, dementia, and autism (which affects every one out of 150 babies born), can also lead to wandering.
With 5.2 million Americans suffering from Alzheimer's disease, hospitals and care centers are increasingly turning to technology to keep their patients safe. Real-time location systems use radio frequencies, GPS, or other wireless technology to find patients who have wandered away from their care facilities. In a typical setup, the patient wears a wristband with a transmitter attached. Law enforcement officials register the frequency number of their transmitter, so if a patient goes missing, rescuers are able to track the signal through a receiver and determine the patient's location. Successful tracking systems can find patients up to a mile away.
The LoJack Corporation, known for making wireless tracking devices to locate stolen vehicles, announced on Tuesday the launch of a radio-based device to locate missing patients. LoJack's Safety Net outfits patients with a wrist-mounted transmitter beacon. According to LoJack's press release, the transmitter allows law enforcement to track a patient's location even if the patient wanders into a building or a body of water. The technology is based on the products of Locator Systems, a company that LoJack acquired last year.
The use of radio technology to locate patients goes back more than two decades. Care Trak International has been supplying the healthcare industry with real-time location systems since 1986. The company originally grew out of Wildlife Materials, a business that specializes in tracking endangered species. When a North Carolina rescue team adopted Care Trak's Rapid Recovery program in 1996, search times dropped from 9 hours to less than 30 minutes. According to the company, Care Trak's device is the only one approved for medical use by the Federal Communication Commission.
Radianse is another pioneer in the patient tracking industry. The Radianse Reveal Real-Time Location system uses RFID tags, traceable by a wi-fi or LAN receiver, to pinpoint the whereabouts of patients as they move through the hospital system. Wait times, orders, and patient location can be monitored. Their system also includes a feature that notifies personnel when patients wander outside preset boundaries. More than 60 U.S. hospitals currently use Radianse's tracking system.
OneMedPlace recently interviewed the President & CEO of Radianse, Manuel T. Lowenhaupt.  This interview will be made available to our readers in the coming weeks.