Roughly a year after a corporate restructuring that separated its bioscience and communications units, Bothell, WA-based Lumera has formed a wholly owned subsidiary for its bioscience business. Called Plexera Biosciences, the subsidiary formalizes the nanotechnology company's commitment to evolving from R&D startup to commercial enterprise.
"The formation of Plexera clarifies the purpose, business requirements and market opportunities of both Plexera and Lumera to our investors, customers, and prospective partners," said Lumera CEO Tom Mino, in a statement.
Along with launching the new subsidiary, Lumera hired financial advisory firm Robert W. Baird & Co. to help with evaluating partnering and financing alternatives over the coming months.
Founded in 2000 to engineer polymer materials at the molecular level, Lumera has since grown into a 60-person company that develops devices for two main sectors — bioscience, and communications and computing. In 2006, the firm reorganized into two operational business units and placed technology development under the direction of the unit heads.
Now, with the bioscience subsidiary official, Lumera has hired an industry vet to serve as Plexera's CEO. Joseph Vallner, a current Lumera board member, was named to the post and also given the chairman title. Prior to joining Plexera, Vallner served as CEO of Capnia, a private pharmaceutical development company. And from 1999 until 2006, he was president and COO of Cell Genesys.
Plexera's COO post was handed to Tim Londergan, Lumera's first employee — he joined in 2000 as a senior chemist. In his new role, Londergan will oversee day-to-day operations of the subsidiary.
Plexera will focus on creating methods and tools for simplifying and accelerating proteomic discovery for therapeutic antibodies and predictive biomarkers. It is currently concentrating on two products, the ProteomicProcessor and its NanoCapture Microarrays. The ProteomicProcessor is a Surface Plasmon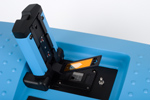 Resonance instrument system for the detection and quantification of molecular binding interactions. It's used in conjunction with Plexera's NanoCapture line, which is a family of microarray products that enable high-throughput analysis of large numbers of antibodies in an easy-to-use microarray format; NanoCapture slides are designed for the immobilization and analysis of up to 5,000 unique antibodies. The immobilized antibodies are analyzed on the ProteomicProcessor.