Luminex, developer of xMAP, an open architecture multiplexing technology with applications throughout the life sciences industry, announced yesterday an underwritten public offering of 3,500,000 shares of common stock.
Based on a current share price of $20, the offering will raise $70 million. Luminex will offer a 30-day option to purchase an additional 525,000 shares of common stock to cover any over-allotments. JP Morgan and UBS will jointly manage the deal.
The offering comes at an especially strong time for the company. Luminex stock has nearly doubled this year from $12 to $22 as revenues and gross margins have rapidly increased.
Luminex will use the proceeds for "general corporate purposes, including research and development, potential acquisitions and capital expenditures."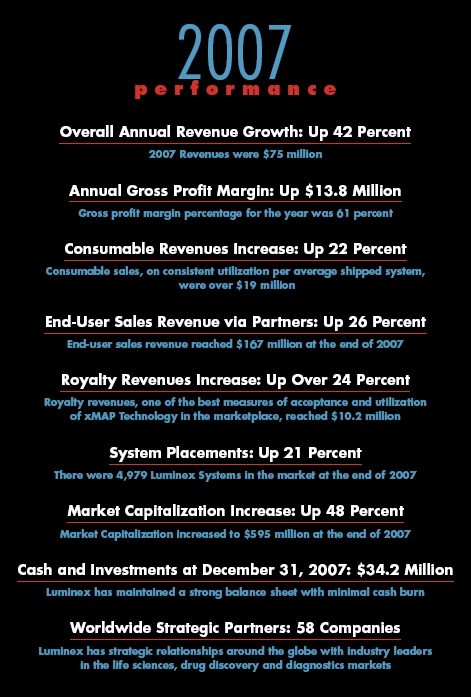 My guess? There's an acquisition in the works.
According to last quarter's conference call, Luminex intends to invest (ultimately) 15% of revenues in R&D. Revenue guidance for 2008 was in the $95 to $105 million range – or approximately $15 million in research. Luminex ended 2007 with $34 million in cash, cash equivalents and investments on hand.
xMAP enables multiple tests to be run simultaneously on one sample. The system uses color-coded beads known as microspheres that react with test samples. Lasers are used to excite the internal dyes marking the sample while a high-speed digital signal processor identifies each individual microsphere and quantifies the results.
While many companies specialize in either DNA or protein analysis, Luminex is able to offer the versatility of assaying a wide range of biomolecules and reactions on one platform. The system offers high throughput and speed; because each microsphere serves an individual test a large numbers of bioassays can be performed and analyzed simultaneously.
Luminex has been marketing the current generation of this xMAP technology since 1999. The company generates recurring revenues through the sales of microspheres.