Despite having been awarded an anesthetic gas contract by Premier, Inc. in March, RxElite will no longer be the exclusive distributor of certain Minrad human anesthetic products in the U.S.
Though the split was harmonious (RxElite will continue to distribute Sevoflurane and Isoflurane), I suspect Minrad was disappointed by lower-than-expected sales, especially when considering the minimum purchase requirements needed to remain exclusivity.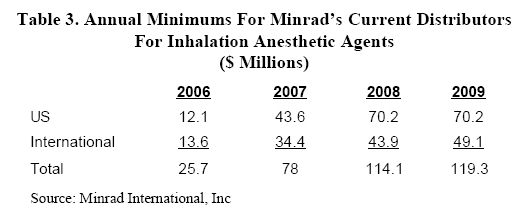 Sevoflurane is the most commonly used anesthetic gas in the U.S. and Isoflurane continues to be widely used in anesthesia practices.
"As we discussed in our second quarter conference call on August 14, 2008, we have had ongoing dialogue with the senior management of RxElite to assess and determine how to increase our joint penetration of anesthetic products in the United States market. We believe this action will maximize the expertise of sales forces of both companies as well as the in-house support capabilities which RxElite has built to launch sevoflurane in the U.S. human anesthetic market," said David DiGiacinto, President and COO.
In June, Minrad launched a direct selling effort for sevoflurane and isoflurane in the U.S. veterinary market. It remains to be seen if Minrad will begin selling other products directly.