NeuroMetrix continues to get hammered by investors who have left the company for dead. In May, NeuroMetrix laid off 15% of its work force. The direct sales team was cut from 54 to 34 individuals. Steps were taken to reduce operating expenses by nearly $5.0 million annually in the face of declining revenues.
After a late April surge in share price following the company's FDA 510(k) clearance for Advance (a platform for performing nerve conduction studies and needle electromyography procedures), NeuroMetrix began a slow decline.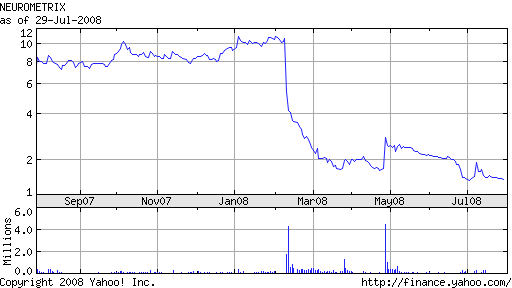 This week, NeuroMetrix completed the CE technical file for Advance; the company intends to begin marketing the System to neurologists, clinical neurophysiologists, hand surgeons, and other specialists in the European Union.
Advance will be introduced into the United Kingdom in the third quarter and "more broadly by the end of the year through additional European distribution partners," says Shai Gozani, NeuroMetrix President and CEO.
Although Advance leverages the company's experience with the NC-stat, it is a new and distinct product platform. The primary regulatory predicate for Advance is the Keypoint device originally manufactured and marketed by Medtronic.
Second quarter results are due August 5th.