Long beleaguered NeuroMetrix, which has seen its stock price erode as officials investigate the marketing and misuse of its NC-stat System, received FDA 510(k) clearance for the Advance System this week. Shares of the Waltham, MA-based company nearly doubled on the news, to a high of $3.06 on Monday.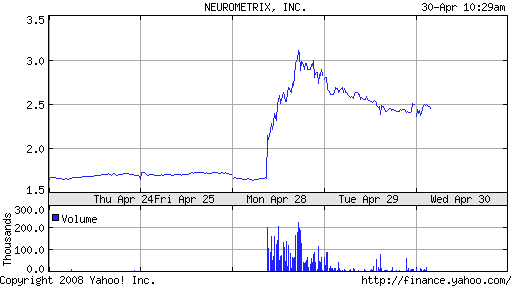 Advance is a platform for performing nerve conduction studies and invasive electromyography procedures. The device incorporates an electrical stimulator and dual recording channels for acquiring nerve conduction responses (a third channel is available for recording needle electromyography signals).
Advance distinguishes itself with its low cost, small size, high capacity lithium-ion battery, and embedded amplification and digitization hardware, which reduce the potential for electrical interference. The company believes Advance is well-suited to a multitude of settings, including nerve function assessment in intensive care units.
NeuroMetrix will market Advance to neurologists, physical medicine and rehabilitation (PM&R) physicians, neurosurgeons, as well as hand and plastic surgeons. The company is in the process of expanding its cash-generating consumables with the addition of new disposable electrodes and single use concentric electromyography needles.
NeuroMetrix President and CEO, Shai Gozani, commented, "Although Advance leverages our experience with the NC-stat, it is a new and distinct product platform. The primary regulatory predicate for Advance is the Keypoint device originally manufactured and marketed by Medtronic, Inc. to neurologists and [PM&R] physicians."
The company will continue to market NC-stat, which allows physicians to diagnose neuropathies at the point of care. The device has been on the market since 1999 and has screened over one million patients.
Questions have been raised about the potential for misuse of NC-stat by unqualified personnel. NeuroMetrix management contends that there was no evidence of inappropriate use of the system by physicians. However, these issues prompted some insurance carriers to alter their categorization of the procedure, which has the potential to disrupt reimbursement. Revenues at the company have been flat for the last several quarters. The company now faces a number of related class-action lawsuits.