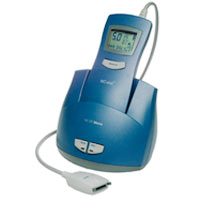 NeuroMetrix reported quarterly revenues of $8.5 million yesterday, down approximately 26% from the same period in 2007.
The company generated a scant $510,000 (or 6% or revenues) from the sale of devices, including NC-stat System and the newer Advance. That could spell trouble for future earnings: during the last quarter, the company's active customer count, a twelve-month look at accounts utilizing the company's neurodiagnostic instruments, decreased by about 100 to 5,480 physician practices and clinics.
As device sales stagnate and the active customer count slides, the cash-generating consumables business will also suffer. In the most recent quarter, a full 90% of revenues (or $7.6 million) came from the sale of biosensors, the consumable portion of the beleaguered NC-Stat system. Consumables kept gross margins high, a robust 70.7% of revenues.
Shai Gozani, NeuroMetrix President & CEO, said that business was adversely impacted by uncertainty surrounding reimbursement for nerve conduction studies performed using the NC-stat System. According to Gozaini, NC-stat revenues may continue to decline during 2008.
For the time being, the company is focusing sales efforts primarily on specialist physicians with peripheral nerve expertise. Consistent with that strategy, the company launched the Advance System in late May following its 510(k) clearance by the FDA.
The net loss for the second quarter of 2008 was approximately $4.9 million, including a write-down of $1.4 million of an investment in Cyberkinetics Neurotechnology. The company lost $1.3 million in Q2 2007. Cash and cash equivalents totaled $22.8 million as of June 30, 2008.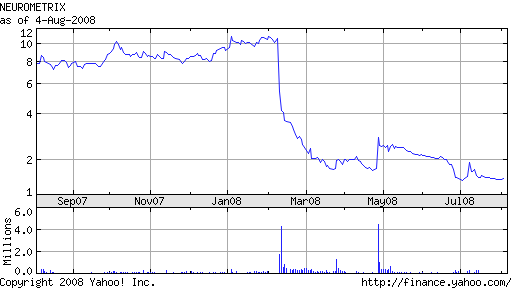 Previously: NeuroMetrix Cost Cutting and Product Introductions Not Enough to Appease Investors