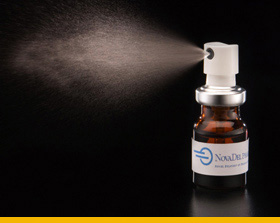 The FDA has approved NovaDel's Zolpimist, an oral spray for the short-term treatment of insomnia. Zolpimist contains zolpidem tartrate, the same active ingredient found in Ambien. Until recently, the U.S. patent for zolpidem was held by the French pharmaceutical giant Sanofi-Aventis. In April 2007, the FDA approved 13 generic versions of the drug.
Using NovaDel's oral spray, zolpidem is absorbed through the oral mucosa directly into systemic circulation. In bypassing the GI tract and liver, the same therapeutic benefits can be achieved more quickly. The drug can reach effective blood levels in as little as 10-15 minutes.
The FDA accepted NovaDel's New Drug Application (NDA) for Zolpimist in January. In keeping with the company's regulatory strategy, the NDA was submitted using the 505(b) (2) path. This allowed NovaDel to rely upon the FDA's findings of safety and efficacy for a previously approved drug, shortening the development time. NovaDel's NDA was based on data from two studies comparing Zolpimist with Ambien.
To avoid a repeat of the ill-fated Hana Biosciences' partnership, NovaDel also included data from process validation and registration stability batches produced at the intended commercial manufacturing facility.
In 2006, Cowen & Co. estimated the U.S. market for non-benzodiazepine prescription insomnia drugs at $3.4 billion; Ambien and generic zolpidem are the dominant prescription drugs with a 70% market share.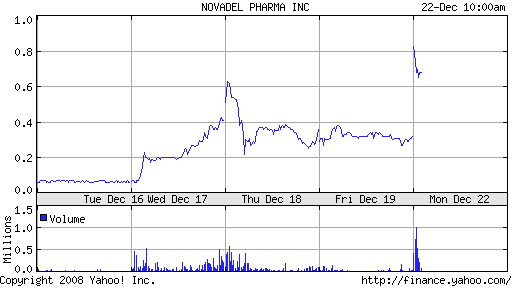 It's huge news for NovaDel. Until recently, the company was trading near a 52-week low of $.05. Shares of NovaDel have increased more than ten-fold in the last week. The company is actively seeking a partner to commercialize Zolpimist.