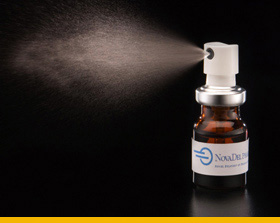 NovaDel has entered into a collaboration agreement with BioAlliance Pharma SA for the development and commercialization of NovaDel's ondansetron oral spray (OS) for Europe. Ondansetron is a 5-HT3 antagonist to prevent nausea and vomiting after chemotherapy, radiation and surgery. Upon successful development and approval, NovaDel believes ondansetron OS could be the first antiemetic to be available in Europe in an oral spray form. BioAlliance and NovaDel anticipate collaborating in the completion of development activities for Europe, with BioAlliance responsible for regulatory and commercialization activities.
Steven B. Ratoff, Chairman and Interim President and Chief Executive Officer of NovaDel said,
"This agreement expands the ondansetron OS opportunity into Europe and we welcome the relationship with BioAlliance. We continue to work closely on this product in the United States, under the potential brandname Zensana™, with our sublicensee, Strativa Pharmaceuticals, the proprietary products division of Par Pharmaceutical, as they progress their clinical studies in preparation for a NDA filing later this year. Ondansetron OS is an excellent fit with BioAlliance and their strategy to commercialize products in the European oncology/HIV supportive care market. We are looking forward to working closely with our colleagues at BioAlliance to establish this product as an innovative alternative to patients having difficulty taking tablets and other forms of ondansetron."
Upon closing of the agreement, NovaDel receives a non-refundable license fee of $3 million. NovaDel is, under the terms of the agreement, eligible for additional development and sales-related milestone payments totaling $24 million consisting of a regulatory approval milestone of $5 million and sales-related milestone payments of $19 million as well as a royalty on net sales during the term of the agreement. NovaDel and BioAlliance will jointly develop ondansetron OS with BioAlliance paying 100% of the costs up to a certain amount after which the development costs are shared 50:50 between the parties. BioAlliance will be responsible for activities related to regulatory and pricing approvals as well as commercialization efforts throughout Europe. NovaDel will be responsible for supplying the product.
Ondansetron OS is NovaDel's proprietary, investigational oral spray formulation of ondansetron, a 5-HT3 anti-emetic therapy indicated for chemotherapy and radiotherapy induced nausea and vomiting, and post-operative nausea and vomiting. NovaDel and Strativa are jointly developing ondansetron OS in the United States under the brand name Zensana. Par recently initiated bioequivalence studies in man and is proceeding on schedule for their submission of a new drug application (NDA) to the FDA in the fourth quarter of this year. BioAlliance expects to file the European dossier in 2009 – 2010. Anti-emetic therapies constitute the largest segment of the oncology supportive care market. According to IMS, in 2007: over two million prescriptions for ondansetron were written in the US, and; in Europe, ondansetron unit growth was 19% representing about one million prescriptions in Europe in retail and hospitals (800,000 prescriptions in the top five countries).