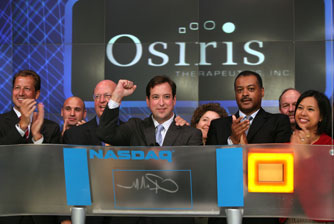 The $200 million NuVasive raised in a March offering may soon be put to good use. The company announced yesterday the pending acquisition of the Osteocel biologics business from Osiris Therapeutics.
Osteocel is a bone matrix product containing stem cells. Like an autograft, it is biologically active and provides the beneficial properties of osteoconduction, osteoinduction, and osteogenesis.
Unlike autograft, Osteocel does not require a secondary procedure or tissue harvesting. Stem cells contained in Osteocel are capable of differentiating into various cell types and can respond to their environment to differentiate into appropriate tissues as needed. The company's processing facility offers "significant supply stream capacity".
Osiris will receive $35 million in cash at closing plus milestone-based payment worth up to $50 million. NuVasive expects that the transaction will add revenues of $15 million in 2008 based on the contractual terms of existing distribution agreements, and $25 million of revenue in 2009. The deal is expected to close in the third quarter.
The acquisition gives NuVasive's sales team a stem cell-based bone graft synergistic with the company's Formagraft biologic product line. Formagraft provides a physical scaffold upon which bone will grow, and can be easily hydrated with bone marrow during surgery.
NuVasive will be better positioned to compete in all segments of, what it estimates to be, a $1.5 billion U.S. market, currently dominated by bone morphogenetic protein (BMP), a group of growth factors and cytokines that induce the formation of bone and cartilage.
Osiris has an exclusive license to 47 U.S. patents. In addition to its orthopedic activities, Osiris has been developing uses for stem cells to improve heart function following myocardial infarction and to prevent progression to congestive heart failure.
C. Randal Mills, President and CEO of Osiris commented, "This transaction allows Osiris to focus on the near-term commercial launch efforts of our stem cell drug products, knowing Osteocel is in the hands of a capable team with a track record of rapid growth in the spine market."