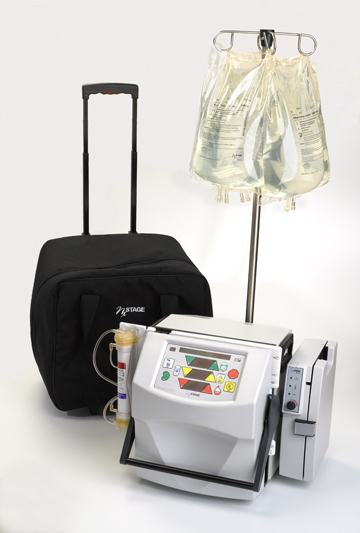 NxStage Medical may be losing steam. The maker of dialysis products reported third quarter revenues of $30.5 million, a slight decrease from the $31.6 million reported last quarter.
While revenues in the company's home dialysis business grew slightly ($12.4 million in Q3 2008, compared to $11.9 million in Q2), revenues from the company's Medisystems in-center business (acquired in June 2007) were $13.7 million in the third quarter of 2008, compared to $15.4 million in the second quarter and $16.1 million in the first.
NxStage had hoped Medisystems' assets would bring the company close to profitability. In the near term, that doesn't seem realistic. Though NxStage revenues have grown more than three-fold, NxStage's loss has remained largely the same, $15.0 million in Q3 2008 versus $16.1 million in the same period last year.
In addition to manufacturing the cartridges used NxStage's System One portable kidney dialysis machine (pictured), Medisystems makes hemodialysis blood tubing sets, A.V. fistula needles, and other hemodialysis disposables.

System One
At the end of the third quarter, NxStage was working with several hundred dialysis centers to provide home hemodialysis therapy to 3,000 end-stage renal disease patients.
Jeffrey H. Burbank, President and CEO of NxStage, commented, "We are pleased by the continuing, annual increase in patient adoption of daily home hemodialysis with the NxStage System One. This validates our strategy to build sustained growth by working closely with patients and their care-providers in key markets while continuing to broaden nationwide access."
In July, the company released patient data which supports System One use. Compared to the conventional regimen of thrice-a-week therapy at a dialysis center, survival and transplant rates were significantly higher among the NxStage patient population. NxStage patients experienced 50 percent-plus reduction in expected mortality as compared to the overall U.S. hemodialysis patient population.
Previously: NxStage Shares Plummet on Q1 Financial Results