NxStage Medical, a Lawrence, MA company that makes dialysis systems, has released new end-stage renal-disease (ESRD) patient data. The information was derived from a registry of NxStage patients who undergo hemodialysis at home using the company's System One.
Compared to the conventional regimen of thrice-a-week therapy at a dialysis center, survival and transplant rates were significantly higher among the NxStage patient population. NxStage patients experienced 50 percent-plus reduction in expected mortality as compared to the overall U.S. hemodialysis patient population.
Survival is the "gold standard" of clinical outcomes. Multiple observational, retrospective studies have been published demonstrating 45% to 61% reductions in mortality with home and/or daily dialysis (a randomized, controlled trial of survival of the daily hemodialysis population is unlikely to occur, given study size and enrollment limitations).
Geographic data shows NxStage is doing a good job breaking down barriers to initiating System One use; 92% of the U.S. dialysis population resides within 60 miles of a center offering NxStage home hemodialysis training, and nearly 80% are within 30 miles.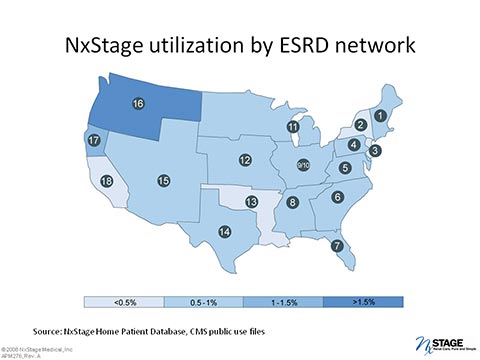 At the end of the first quarter 2008, NxStage was working with 355 dialysis centers to provide home hemodialysis therapy to 2,481 end-stage renal disease patients.
This compares to 200 centers and 1,295 patients at the end of the first quarter of 2007. The company expects to end the year with between 3,100 and 3,500 patients using its System One device.
NxStage has yet to recover from a disappointing earnings report that sent shares plummeting to the four-dollar range. Though revenues grew nearly four-fold to $31.0 million in Q1 (compared to $8.4 million in the first quarter of 2007), NxStage's loss widened to $13.9 million from $12 million. The cost of sales grew to $27 million from $10 million; operating expenses rose 54% to $17.2 million, year-over-year.
The company remains committed to top line growth. And according to Jeffrey Burbank, President and CEO of NxStage, "[We're] confident that home daily hemodialysis is a significant market opportunity in particular, over the long-term because of its clear patient benefits."
Second quarter results are due August 5th.