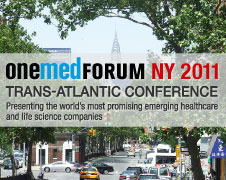 OneMedPlace is gearing up for OneMedForum NY 2011, the company's 2nd annual Trans-Atlantic Conference to be held June 23-24 , 2011 in New York City.  It is a gathering of those building fast growing and emerging healthcare and life science companies in Europe and North America.
In its sixth OneMedForum, second in New York, OneMedPlace will focus on critical success factors for building companies on both sides of the Atlantic. Leading European venture and strategic investors have played an active role in helping the event attract the most promising companies and leading investors from Europe and the United States.
Ideal for institutional investors and business development executives building and financing high growth medical technology, attendees will have the opportunity to meet the management of the firms creating the technologies that will shape the future of health and medicine. They may also begin to build a network of prominent venture and business development executives from Europe and the U.S.
The Forum will feature presentations from emerging public and private companies in: Medical Devices,  Diagnostics Biotech/Pharma and Health Information.  In addition to presentations by 100 emerging medical technology companies, delegates will gain insights in the critical areas of regulatory approval, reimbursement, as well as building distribution and sales organizations in both Europe and the United States through workshops or small group discussions led by experts. In addition, OneMedForum NY 2011 offers Speed Meeting similar to speed dating in a structured 5 minute meeting format to connect corporate partners with financial investors.
In the company's first New York conference held June 2010, over 75 companies and 300 strategic and financial investors and senior executives attended. Recognizing the significance of the event, Mayor Bloomberg proclaimed "OneMedForum Days" in New York City the week of the event. It is a truly global investment conference for those building and financing companies to succeed on a global stage.
A world class advisory board is currently being assembled to assist in the selection of companies to be invited. Committee leaders include: Daniel Bertholet, Endeavor Vision, Switzerland; Antoine Papiernik, Sofinnova, France; Thom Rasche, Earlybird Ventures, Germany; Anthony Sun, Aisling Capital, US; Josh Scheinfeld, Lincoln Park Capital, US; Otto Ankarcrona, Investor Growth Capital, Sweden; John Milad, NBGI Ventures UK; Erik Baas, Switzerland, Former director business development, Medtronic, Europe; and Don Urbanowicz, US, Former director business development, Stryker.
For more information visit www.onemedplace.com.