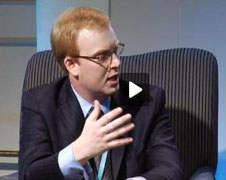 The total market for advanced orthopedic technology and products was estimated to exceed $28 billion in 2010. New technologies and an increasingly older population are two of the major driving forces within the market. By 2015, the advanced orthopedic technology and product market is likely to reach $32.4 billion, with a compound annual growth rate (CAGR) from 2010 to 2015 of 2.7%.
A panel of experts in the field sat down at OneMedForum SF 2011 to discuss the large number of very innovative solutions in development which should offer the large orthopedic companies an opportunity to grow rapidly during the coming years. Moderated by Bryan Hughes, Director of P&M Corporate Finance, panelists included Nancy Lynch, MD (Orthopedic Surgeon), John Barrett (President, CoAlign Innovations), Richard Ferrari (Managing Director, De Novo Ventures) and Karen Talmadge, Ph.D (Co-Founder, Kyphon)
The fastest growing segments of orthopedics are orthobiologics, spinal and trauma, whilst the established markets for reconstruction implants and arthroscopy equipment are exhibiting more modest growth rates.
Growth continues to be fueled by a number of factors, including the aging population, the uptake of orthopedic surgery at an earlier age, physiological problems due to the increasing incidence of obesity, the development of better and longer-lasting implants and materials, as well as new procedures, in particular, minimally-invasive procedures. Long-term social and demographic trends will underpin the sector's commercial success for many years.
The spinal implant market experienced approximately 15.3% growth, to US$6.8 billion in 2008. This segment is one of the fastest-growing markets in orthopedics, fueled by the aging population, treatments for younger patients, the development of better implants, materials and procedures, higher patient demand and the move from fusion technologies to motion-preserving devices.
"There is no way to develop products without surgeon interaction," said John Barrett. " That's what every company that's been successful does. Within the spine business, there has been bad press with regard to physicians being paid money by companies. What's the right model? Within my company we clearly define the role of advisors who help with product development."
Richard Ferrari continued, "In any field, you're always working with surgeons who have great ideas….but it's a function of magnitude.  What are they providing and whether or not they have objectivity…They should be compensated but when it gets beyond that where now you're influencing big decisions, we get into the real conflicts."
"While the focus today is on the spine, a few years ago, general ortho was the focus. We have a legacy of inappropriate payments. The new relationships will be very valuable and will be more appropriate," said Karen Talmadge.
The global market for orthobiologics was estimated at $4.8 billion in 2008. This market is projected to more than double by 2013 driven by technological advances and an aging, increasingly active population giving rise to more people aged over 60 diagnosed with musculoskeletal conditions. Stem-cell therapies are forecast to be the fastest growing category, boosted by President Obama's decision to lift the restrictions on US federal funding for research on new stem cell lines.
It is estimated that over 200 companies are developing orthopedic biomaterials. While the large multinationals have a significant presence, the orthobiologics segment is very fragmented and is mainly inhabited by much smaller companies, many of which are development stage companies with products that have not yet received regulatory approval.
Medical companies making headway in the field of orthopedics include Isto Technologies, Tibion Bionic, and Ortho Kinematics.