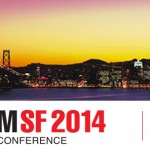 OneMedPlace announces program for the Seventh Annual OneMedForum: Investing in Healthcare 2014, Jan. 13-15
New Venue: The Westin San Francisco Market Street
Register and learn more about conference programming by visiting www.onemedconferences.com
NEW YORK, Oct. 2, 2013 – OneMedPlace has announced an expanded program schedule and a new venue for the "Seventh Annual OneMedForum: Investing in Healthcare 2014," January 13-5, 2014, The Westin San Francisco Market Street.
The Seventh Annual OneMedForum will focus on the new financing strategies made possible by the JOBS Act and on areas of greatest investment opportunity in therapeutics, devices, diagnostics and health information. OneMedForum will also showcase the most promising microcap public companies and high-growth private (pre- IPO) companies. The conference will also move to an expanded facility just three blocks from Union Square.
"We are excited about our move to the Westin San Francisco Market Street. The Weston is a premier business conference hotel," said Brett Johnson, CEO of OneMedPlace. "The hotel is just a short walk from Union Square off Market Street and provides a terrific venue that accommodates our expanded program and networking efforts, which include additional tracks for workshops and opportunities for companies to present on both days of OneMedForum."
With the SEC's passing of Title II of the JOBS Act, the rules for raising capital and soliciting investors have dramatically changed, creating new opportunities to fund growth companies. Innovation continues and is creating tremendous opportunities for investors who are knowledgeable into the major trends. OneMedForum will fully explore how companies can tap this new market for investors with several workshops and panels dedicated to the topic.
OneMedForum, now in its seventh year, is one of the world's leading growth company conferences focused on healthcare and emerging technology companies. In 2013, OneMedForum attracted over 100 companies and 1200 investors and growth company executives.
About OneMedForum
Established in 2008, OneMedForum is the conference component of OneMedPlace, which provides an integrated media platform to showcase the best ideas and innovations in health and medicine globally. The media platform also includes: OneMedRadio, OneMedTV, OneMedSentinel, a global database of companies, and OneMedResearch, which tracks promising lesser-known microcap public companies.
For the original press release: http://media.wix.com/ugd/2e1319_b4d85d80d3102f1e097ddea5d4ad1ead.pdf