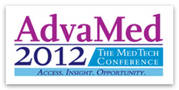 The 6th Annual AdvaMed 2012 MedTech Conference kicks off October 1st for a 3-day event covering the hottest issues in the sector.
This year, AdvaMed expects more than 2,100 attendees, 800 MedTech companies from 24 countries, 36 states and Washington, DC. The conference has experienced double-digit growth each year, and in recent years has expanded to reach the international markets. AdvaMed also devotes special programming to early stage companies, as well as the world of tech transfer.
**To learn more about conference programming, visit our story covering AdvaMed 2012: The MedTech Sector Event of the Year**
OneMedRadio spoke with Ray Briscuso, Managing Partner and Producer of AdvaMed 2012, to learn about the can't miss highlights in conference programming. Briscuso also discussed the history of the conference — how a gathering once geared toward trade association types has grown into one of the most important events in facilitating growth company finance in the sector.
Now, a large number of attendees, according to Briscuso, are people strictly interested in investment and business development opportunities.
Briscuso points attendees to several can't-miss panels, featuring some of the most respected industry leaders in their field — executives during the CEOs Unplugged series, innovators, journalists, financiers and regulators during the plenary sessions — sharing their experiences and thoughts on the future of the sector.
Click below for audio.
To learn more about the conference, visit www.advamed2012.com.
Matt Margolis: Greetings from OneMedRadio, I'm Matt Margolis. Today I'm with Ray Briscuso, Managing Partner and Producer of AdvaMed 2012. The Sixth Annual AdvaMed Conference takes place October 1st through 3rd at the Boston Convention and Exhibition Center. AdvaMed features panel sessions dedicated to the hottest areas of healthcare as well as special plenary sessions and a CEO Unplugged series discussing issues surrounding company growth strategies. Thank you for joining us, Ray.
Ray Briscuso: My pleasure.
Matt Margolis: So this is the first time that the conference is in Boston. So, Ray, let's start there. Why Boston, why this year?
Ray Briscuso: Well, the conference is only six years old. Even though the trade association dates back to the early '70s, we went many years without an annual conference and we realized that we really wanted to have everyone come together, large and small companies, the investors, the distributors, everybody. So we created the conference six years ago and it has always been held in Washington DC, and to be honest I think we got smart. We realized that this is not where the industry is, this is not where the academic research is done, this is not where the venture capitalists sleep at night, and it's not where the discoveries are being made. We realized that we can get the regulators and others to come to where the cluster is.
So we went to, arguably if not the largest cluster, it is the most dense cluster and Massachusetts is a perfect spot. It has a little bit of everything. It has global giants, you got Philips, you got Covidien, you got Boston Scientific, you've got AbioMed. I could go on and on and on. You also have a hundred early stage innovative companies, serial entrepreneurs, lots of venture capital, lots of angel capital or private equity capital and people like Bob Langer, the professor with 800 patents to himself. So Boston is a fantastic place for a conference for the medical device industry.
MM: So let's talk about some history from the conference. What success have you had and also what is your role?
RB: Well the conference has definitely met a market need. We started the conference with an expectation of maybe 700 people showing up the first year and we had a thousand and we've had double-digit growth every single year that the conference has been in existence. We expect about 2400 people this year, delegations coming from all over the world. We have companies that come from New Zealand; they come from the Asian markets. We have a very large delegation from the UK led by members of parliament. We'll have KD & Company.
So the history has been very robust. What I'm most pleased with is the growth in the business development area where now whether you're a member of AdvaMed or not and actually half or attendees are not members of AdvaMed, business is done at our conference. So the heads of business development, the corporate venture, the early stage companies who are looking for partners, looking for acquisition, looking for exit strategies, they all are coming to the conference and what's great is it's not just cardiovascular or ophthalmic or orthopedic or blood. We get them all. Diagnostic is probably one of our biggest strengths. It's the place where the device and diagnostic industry all comes.
My role is to really take what was the strength of AdvaMed which primary was regulatory reimbursement, compliance, and international issues and add in that business component and that's what we really have focused on. We've got partnerships with the Healthcare Private Equity Association. We work closely with the National Venture Capital Association and I think as a result more and more people come and see it as one place, one time where the entire industry needs to gather and really there's really nothing like it. It is the one place where you can come and do business from start to finish.
MM: Great. So can you give us a rundown of its structure of this year? You know, what particular pieces of programming are a must see?
RB: Well I think the signature event for our conference has become our CEO unplugged series. We literally take the leaders of our largest companies and we place them on a barstool in an intimate setting and we talk about the issues that are important to them and the growth strategies for companies that are in the sector. We'll have for instance Omar Ishrak that runs Medtronic will be on the panel, Mike Mahoney from Boston Scientific. We'll have David Dvorak of Zimmer. We'll have Tim Ring of Bard. We'll have Joe Almeida that runs Covidien. Mike Frazzette of Smith & Nephew. You know, I can go on and on. We literally have, if you took the 25 largest device companies in the world, I'll probably have 15 CEOs sitting on a barstool. If you come at the conference, you can be a yard or two away from them as they speak.
We also have a series of plenary sessions. We bring in thought leaders. We have I think a fantastic panel that has Bob Langer who is a prolific inventor together with Terry McGuire who is one of the larger med tech and life science portfolio venture capitalists together with Jeff Shuren from the FDA. So you have a panel looking at the future of innovation and the ecosystem of the medical technology industry.
I think it fits the right people. It's the early stage discoverer, it's the people that fund it, it's the people the regulate it and it's being moderated by health policy publisher Susan Dentzer. It should be an outstanding panel.
We also go into some of the history. I have another panel that I would not want to miss. I got Dean Kamen. Together with Dean, I have Tom Fogarty, one of the most prolific investors from the west coast. I've got John Abele, so I've got the co-founder of Boston Scientific to put them together on barstools as well and have a chance to pick their brains, what have they learned, what's different today versus yesterday. Then following that up is panels with early stage companies that have the next generation of innovation. So we have educational panels, we have funding forums, we have individual company presentations much like an investor conference. We have plenary sessions. We exhibit hall. We have sector meet-ups where people come from a particular sector. So if you're a cardiovascular company, you don't have to go to just a cardiovascular conference. You come to our conference, you find your own peers but you also find other people you might want to work with.
It's literally you probably have to choose between seven or eight things to do at any given time and a lot of competition. Mostly what I hear from people is they want to be in more than one place at once and that's a challenge and we appreciate that. It's better for them to want to be in too many places than to sit around and say well I have nothing I want to do this next hour so I'm going to go return phone calls. We try to make it so there's something from the minute you come in for breakfast until networking receptions late at night that you're doing business or meeting people that are going to make your business grow.
MM: So I want to circle back to the type of attendees that are there. Can you go into some detail about the investor presence?
RB: So the conference started out primarily with C level executives from industry itself. So we started out really with the heads of regulatory, the heads of reimbursements, key people from the legal and compliance shop and the CEOs and that's really probably the backbone of AdvaMed itself. Once we started doing that, we found that the group that wanted to come that wanted to be included, the investors wanted to come. The investors wanted to know what was happening in the regulatory arena because that was impacting them in their investments. They want to know what was happening with reimbursements for the same reason and they often want to be around the CEOs and they're looking at exit strategies so they want to be around business development executives. So we all of a sudden started to see a huge growth in the investor community.
As the investor community grow, it kind of feeds on itself. The private equity bankers want to be around the VCs and they want to be around the CEOs and the business development then we get more private equity then it was the angels and the angels wanted to come. Then when the angels came we started to get tech transfer officers that wanted to come. So it's really been quite interesting. The investors were not the original piece when the conference first began back in 2007, but the investors now are probably smack in the middle of what the conference is all about. Often these investors, they're starting companies, they're serving on boards of companies or we want them to invest in new a new company. We want them to help find new solutions. So a large part of the conference, about 300 of the 2200, people at our conference are strictly coming to the conference because of investment, business development opportunities.
MM: And often the presence at these kinds of conferences is considered a barometer of how the industry is feeling. So in your opinion do you think the industry is optimistic or pessimistic about the future?
RB: Well that's a great question. I think it's more optimistic today than it was a year ago and this is pretty scary for a conference planner to step into this type of question. But you're right, conferences often do indicate this. Well I think there's optimism for a couple of reasons tied to the conference. Number one, our attendance is way up. We have broken every record this year in every category that we're keeping, number of hotel rooms, number of exhibitors, number of companies who want to present, number of people who want to speak. If you go down, everything we track, we are up this year.
I think that's for a couple of reasons. I think that while there's still disappointment in the medical device tax, there's getting to be either some degrees of more certainty. People have started dealing with that…I think that there definitely seems to be some optimism in the industry at least if it truly reflects in the conference. We will by far have more people on site, more companies presenting so I hope that does bode well for the industry ahead and that's also more international, which might also track. I mean a lot of the growth, you know, larger growth in our industry is outside the US, well our attendance is up domestically. The largest percentage of growth would be non-US growth. So that's also, you know, indicative of what's happening.
So if you're not seeing growth in one place, the industry is smart enough to find another place where there's market opportunities. As a whole I'd say the conference if it's a bell weather indicator then the industry looks like it's in a good place right now.
MM: That's very interesting. So last question, how can our audience learn more about the conference and register?
RB: Well we're tied in with AdvaMed so hopefully people know about AdvaMed. We're the world's largest medical technology trade association. We're the advanced medical technology association that's A-D-V-A-M-E-D. They can go to AdvaMed.org which is the home webpage for our trade association or they can go straight to the conference, which is AdvaMed2012.com and simply Google AdvaMed and I'm sure you'll find the conference. If you're in the Boston area, we partner with MassMEDIC. You can also find us through MassMEDIC and pretty much all the state medical technology associations are tied in with us and will be participating.
MM: That was Ray Briscuso, Managing Partner and Producer of AdvaMed 2012 taking place October 1st through 3rd at the Boston Convention and Exhibition Center. With OneMedRadio, this is Matt Margolis signing off.