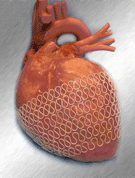 Paracor Medical, a private company from Sunnyvale, CA, that's developing a ventricular support device, has raised $44.35 million in a Series D financing. The money will be used to continue funding an in-progress pivotal trial of the company's main product, HeartNet.
The HeartNet Ventricular Support System "hugs" the heart. The super-elastic mesh wrap is delivered using a mini–thoracotomy approach that avoids open-chest surgery. A surgeon places the HeartNet over the heart by stretching the elastic device over the ventricles. When the device is released, it returns to its original size, creating a gentle "squeeze." The support is designed to reduce the amount of work the heart has to do every time it beats. Paracor says this ultimately decreases the symptoms of heart failure.
Acorn Cardiovascular, based in St. Paul, MN, is working on a similar product, the CorCap Cardiac Support Device. In May, FDA said Acorn could conduct a second, smaller scale clinical trial for the device, allowing the cash-strapped company to move forward with its primary product — a larger, more expensive trial would have wiped out Acorn's capital reserve.
Paracor's HeartNet has been implanted in 50 patients since 2004 as part of initial safety and feasibility studies. Initial indications are that patients receiving the device demonstrate substantial improvements in exercise capacity and quality of life measures. The pivotal trial, PEERLESS-HF, is currently underway and is expected to involve up to 30 U.S. clinical sites.
Paracor's Series D financing was led by new investor Aberdare Ventures, with participation from Montagu Newhall Associates. All of the company's current institutional investors participated as well. These include Delphi Ventures, Pequot Ventures, InterWest Partners, Alta Partners, DeNovo Ventures, RWI Ventures, Saratoga Ventures, and Palo Alto Investors.