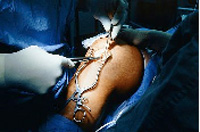 For many athletes and active individuals, deteriorating cartilage is a mood changer.  The cartilage, located at bone endings, provides a cushion and prevents bone from connecting with other bone, but when it is damaged or worn down, bone hits bone where the sensitive nerve endings are located and it is often very painful. Because it lacks a blood supply, cartilage has a limited ability to repair itself.

But Bacterin, a medical device company and accredited tissue bank that designs, processes, manufactures, and markets advanced medical products, has developed a product for subchondral bone void filler that has had impressive results in joint restoration in histological studies, a breakthrough technological development. The potential market for the this new product utilizing 100% human tissue could be significant.

In addition, Bacterin's Biologics Division has revolutionized the handling characteristics of allograft bone for transplantation. The Company's biologic scaffolds, OsteoSponge®, OsteoSponge® SC and OsteoWrap®, are made from demineralized human bone, highly malleable and flexible for efficient and precise handling, delivering an osteoinductive and osteoconductive interconnected porous matrix essential for supporting the patient's own stem cells and new bone formation. Bacterin's OsteoSponge® SC product lines are used in repair of subchondral bone defects.  Bacterin's latest allograft, OsteoSelect® DBM Putty provides superior handling characteristics and is designed specifically for the Spine, Cranio-maxillofacial, reconstructive, extremities, and trauma markets.  In September 2010, Bacterin extended its core technology to design its third human acellular biological Scaffold, hMatrixTM, a dermal scaffold used in wound repair.  Commercial release of hMatrixTM is expected first quarter of 2011.

Bacterin's Medical Device and Coatings Division develops bioactive coating technologies for implantable devices.  Its core competency is anti-microbial coatings designed to reduce potential infections associated with implants, improving rates of healthcare-associated infections and associated costs. This Division also manages surgical kits necessary to support implantation of products processed by Bacterin's Biologics Division.

The newly public company growing at over 200% is addressing a huge market and making a strong impact. They recently launched a direct sales force model training specifically in biologics, making a better impression on doctors. With products currently in 350 hospitals, Bacterin unveiled a three year contract with Broadlane, a nationwide network of hospitals and medical practices, now supplying Bacterin products to over 6,000 medical facilities.

"Bacterin has developed a robust biologic portfolio to address a multitude of Orthopedic Procedures. Since our products offer unique handling properties as well as provide the characteristics of native bone that are necessary for fusion, we provide great surgical solutions that are cost-effective for medical centers and yield excellent results for our patients," said Guy Cook, Chairman and CEO of Bacterin.

Bacterin will be presenting  at OneMedForum SF 2011 on Tuesday, January 11, 2011 at 8:30AM.