NEW YORK, N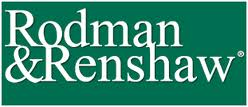 Y-November 24, 2010– OneMedPlace announced that Rodman & Renshaw, LLC, a subsidiary of Rodman & Renshaw Capital Group, Inc. (NASDAQ: RODM) will be a sponsor of the 4th Annual OneMedForum Business Development and Investment Conference January 11-13th 2011 in San Francisco.

"We're delighted to have Rodman & Renshaw's involvement because the firm brings terrific reach into the investment community and helps bring awareness to this conference, which is critical in help investors learn about promising companies. Rodman has been an important financial advisor to life science companies, having raised over $4.5 billion in over 290 transactions since 2003 for life science companies," said Brett Johnson, CEO of OneMedPlace, organizer of the Forum.

"Having been an advisor to the OneMedForum since its founding, I have seen the value the event provides for promising growth companies in the healthcare and life science space", said Hany Awadalla, Managing Director in the healthcare practice at Rodman & Renshaw.  "Vehicles to support visibility for emerging companies are critical in this challenging environment. OneMedForum fills an important need and we're delighted to play a role," added Awadalla.

OneMedForum takes place January 11-13th in San Francisco with expert panel sessions, presentations from private companies and emerging public companies. The session also features a keynote by Nathan Myrhvold, founder of Intellectual Ventures and former Chief Strategist of Microsoft. He will speak on the changing nature of invention in medical technology and how it will get funded. His firm, IV has $5 billion under management and is the 3rd largest holder of patents in the United States. The day before the conference begins, a special seminar on entering China will be offered.

"The funding for emerging companies has never been more difficult, as venture funds struggle and investors wait on the sidelines. Meanwhile, some extraordinary investment opportunities exist for long term investors. Our mission is to find the most promising companies and help give them greater visibility. This year we expect 100+ companies to present, covering devices, therapeutics, biotech and health technology," said Johnson.

Rodman & Renshaw will be moderating one of the investor panels and be assisting in a workshop regarding financing alternatives for small and midcap public companies.

We have tried to create a platform for a variety of investment banks, particularly investment boutiques to showcase some of their best prospects as a novel alternative to the traditional investment conference. The role of OneMedPlace is to serve as a communications platform that facilitates the development of innovations in health and medicine.