Spectranetics can't catch a break. The Colorado Springs-based manufacturers of excimer lasers saw its share price plummet after the Fed issued search warrants so that it can investigate the company's sales and marketing practices, among other things.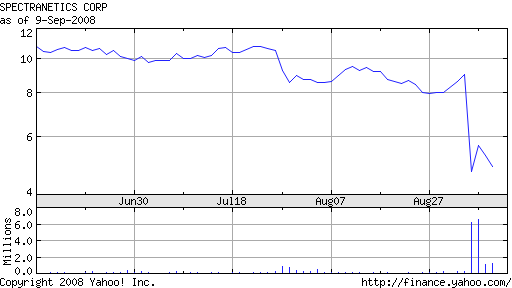 Now the company's Salvage Trial, a physician-sponsored IDE study run by VIVA Physicians, Inc., has been delayed.
VIVA decided to suspend enrollment after being contacted by FDA about a potential safety concern related to the interaction of Spectranetics' laser with nitinol stents.
VIVA Physicians, a not-for-profit operating in the field of vascular medicine, was evaluating the safety and performance of the company's treatment of in-stent restenosis (ISR) within nitinol stents implanted in the superficial femoral artery (SFA). 25 of the planned 100 patients had been enrolled.
It seems the delay could have been avoided.
On September 11th, Spectranetics submitted to the FDA a report entitled "Nitinol Ablation / Fatigue Testing Results" that indicated the stents in question had no fatigue-related failures following laser interaction. The FDA did not have this report at the time they contacted VIVA regarding its concern.
"We respect the decision by VIVA to take a conservative approach with this study and look forward to the results of the FDA's review of the safety data we just submitted related to laser interaction with nitinol stents. To be clear, this decision by VIVA does not reflect or speak to our products when used for labeled or cleared indications," said John G. Schulte, President and Chief Executive Officer of Spectranetics. "We are continuing to work closely with the FDA to provide all the information necessary so that the physician investigators can resume enrollment in the SALVAGE study."