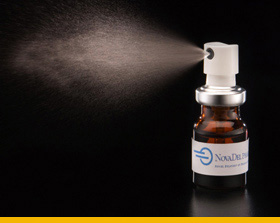 NovaDel has developed an oral spray technology with applications in a broad range of therapeutic areas and product categories. Spray formulations contain the drug in solution, ready to be absorbed through the oral mucosa directly into systemic circulation.
In bypassing the GI tract and liver, the same therapeutic benefits can be achieved more quickly. Spray formulations may provide faster relief of migraine, sleeplessness, and other conditions where time to relief is important. It may also be possible to achieve the same effect with a lower dose, which may help improve side effect profiles of certain drugs.
This week, NovaDel announced results of its pilot efficacy study of its oral spray formulation of sumatriptan (marketed as Imitrex/Imigran). Sumatriptan is the leading triptan for the treatment of migraine headaches. Migraine headaches affect over 30 million Americans and triptans account for almost $2 billion in sales with the tablet form of triptans representing approximately 80% of prescriptions.
In the study, NovaDel's oral spray was compared to sumatriptan tablets. Previously, NovaDel reported that its Sumatriptan oral spray could lead to a more rapid rise in drug blood levels compared to traditional tablets. Early results indicate that the oral spray is and can relieve migraine headaches at lower dosages than sumatriptan tablets.
Results indicate that Sumatriptan delivered orally at doses of 30- and 40-mg may be significantly more effective than the 50-mg sumatriptan tablet in reducing pain and other symptoms associated with migraine headaches and produce a degree of relief that is qualitatively similar to the 100-mg sumatriptan tablet. NovaDel will continue its clinical development efforts for the drug with a definitive pharmacokinetic study planned for 2009.
NovaDel first stumbled in a February 2007 debacle in which the FDA voiced concerns over Hana Biosciences manufacturing of Zensana. That development sent shares tumbling.
Previously: NovaDel Partners with BioAlliance Pharma SA to Bring Ondansetron Oral Spray to Market