Thermage, a company that has readily maintained its position in an otherwise weak aesthetics market, rejected the previously announced offer to acquire its outstanding shares for $5.50 a piece.
Thermage stock only went as high as $4.50 as the buyout was considered; it would seem the street had its doubts all along. Thermage had been trading near its 52-week low leading up to the offer. The company's Board clearly believes its better to wait things out.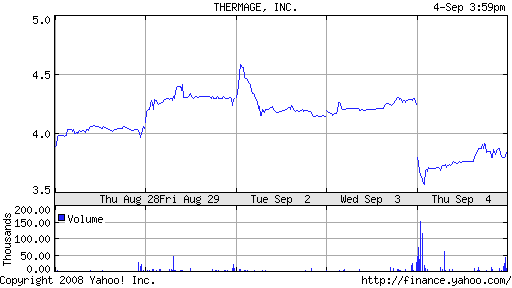 Thermage will focus instead on its acquisition of Reliant Technologies, announced last July. That stock and cash transaction was valued at ≈ $95 million and combines respective players in the skin tightening and skin resurfacing markets, two fast-growing segments of the aesthetics industry.
Commenting on the decision, Stephen Fanning, President and CEO of Thermage, said,
"We believe the proposed merger with Reliant will provide significantly greater value to Thermage stockholders. Thermage and Reliant have complementary business models and technologies which can provide a broad range of complementary products to both new and existing customers, and offer significant revenue and cost saving synergies."
More on that merger here.