More partnering news, this time from Vital Images, who report they have expanded their partnering agreement with Toshiba Medical Systems to include Toshiba's newly launched AquilionONE dynamic volume CT scanner.
Toshiba bills the FDA cleared system as the, "most advanced diagnostic imaging computed tomography equipment available". AquilionONE, slated for a summer launch, will allow physicians to create not only a three-dimensional depiction of an organ, but also characterize that organ's dynamic blood flow and function. AquilionONE can scan one organ in one rotation – eliminating the need to reconstruct slices from multiple points in time – reducing exam time and radiation exposure.
Vital Images will apply ViTAL – their visualization and analysis software – as part of the worldwide distribution and licensing agreement. The agreement includes, for the first time, penetration into the Japanese market.
Previously, through its partnership with Toshiba, Vital Images had developed the SUREPlaque coronary artery plaque characterization software. The software is designed to aid in the evaluation, characterization and quantification of plaque inside the coronary arteries.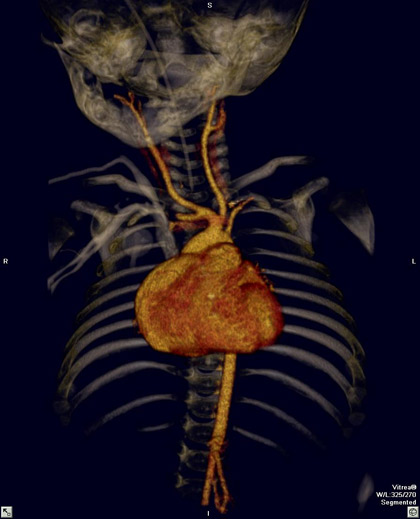 Vital Images' software create 3D and 4D images of human anatomy from 2D image data generated by CT or MRI scanners. Physicians can easily navigate within these images to better understand and diagnose disease conditions, plan surgeries and other therapies.
Vital has formed distribution partnerships with McKesson Information Solutions and other IT/PACS providers. These hospital-wide sales are typically larger and involve multiple licenses. The company has formed other key partnerships with Eclipsys, E-Z-EM, R2 Technology, Mirada and Sectra.